GermGuardian GG1000 Pluggable UV-C Sanitizer and Deodorizer, Kills...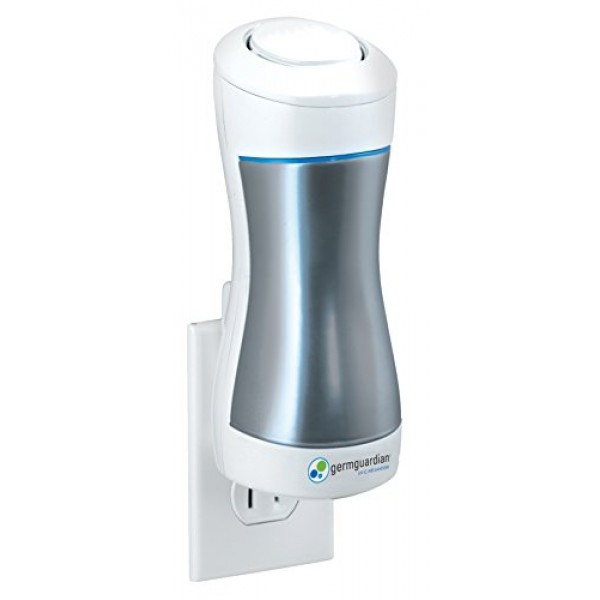 GermGuardian GG1000 Pluggable UV-C Sanitizer and Deodorizer, Kills Germs, Freshens Air and Reduces Odors from Pets, Smoke, Mold, Cooking and Laundry, Germ Guardian Air Purifier
Germs and odors beware! The GermGuardian Pluggable UV-C Sanitizer and Deodorizer provides your home with fresher, cleaner air. UV-C light reduces the DNA of germs eliminating their ability to reproduce. It's easy to operate and requires no set up or assembly. Its sleek and compact design is ideal for small spaces. Just plug it in to a wall socket to kill bacteria and fight odors from cooking, mildew, smoke, pet areas and more. Ideal for small rooms such as bathrooms and laundry rooms.
PROVIDES CLEANER AIR: Provides cleaner air using the power of UV-C light technology, it provides cleaner and fresher air in your home.
REDUCES ODORS: Reduces household odors caused by, smoke, lingering laundry, pets, unpleasant cooking smells, or even from the diaper pail in your nursery.
FIGHTS GERMS: UV-C light technology works with Titanium Dioxide to reduce airborne bacteria, viruses, germs and mold spores. CARB Compliant.
COMPACT: Sanitizer can be plugged into any wall socket and rotates to fit easily into tight spaces.
FILTER-FREE: There are no filters and only a single UV-C light bulb (model LB1000) needs to be replaced every six to eight months depending on use. IMPORTANT: Use GENUINE Guardian Technologies replacement parts to maintain product performance. 1 year warranty.