GermGuardian AC4825 3-in-1 Air Purifier with True HEPA Filter, UV-...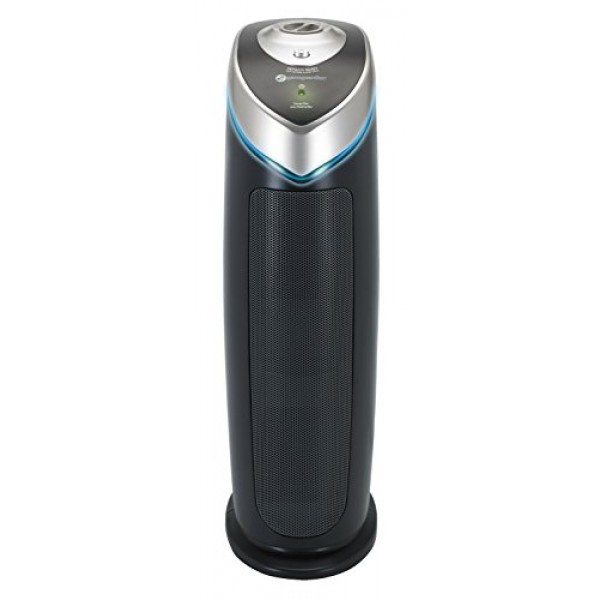 GermGuardian AC4825 22" 3-in-1 Full Room Air Purifier, HEPA Filter, UVC Sanitizer, Home Air Cleaner Traps Allergens for Smoke, Odors, Mold, Dust, Germs, Smokers, Pet Dander, Energy Star Germ Guardian
Improve your indoor air quality with the GermGuardian 3-in-1 Air Purifier. Perfect for allergy sufferers, the HEPA filter captures 99.97% of dust and allergens as small as .3 microns in size! More than just a filter, the UV-C light kills germs, while the charcoal filter captures odors. Standing 22 inches tall, it is lightweight and ideal to use in rooms up to 167 sq. feet. Includes a UV-C control and a filter change indicator. Choose from 3 speeds, including a low speed that runs ultra-quiet.
TRAPS ALLERGENS: HEPA Filter captures 99.97% of dust and allergens as small as .3 microns such as household dust, pet dander, mold spores and plant pollens.
REDUCES ODORS: Charcoal filter reduces common odors from pets, smoking and cooking.
FIGHTS GERMS: Optional UV-C light technology works with Titanium Dioxide to reduce airborne bacteria, viruses, germs and mold spores. Carb Compliant
AHAM VERIFIED AND ENERGY STAR CERTIFIED: 22 inch 3 speed tower is best used for rooms up to 167 sq. feet Filters and circulates room air over 4x per hour. The higher the CADR the faster the unit filters the air. CADR Dust (118), Pollen (125) and Smoke (108).
Filter Replacement Reminder: Only one single filter needs to be replaced every 6-8 months depending on the use of the product; Replacement filter is filter B (model FLT4825). To lengthen the life of your filter, a 4 pack of the carbon filters is also available (model FLT22CB4). UV-C Replacement Bulb LB4000. IMPORTANT: Use genuine Guardian Technologies replacement parts to maintain product performance. 3 year limited manufacturer warranty.