General Electric MWF Refrigerator Water Filter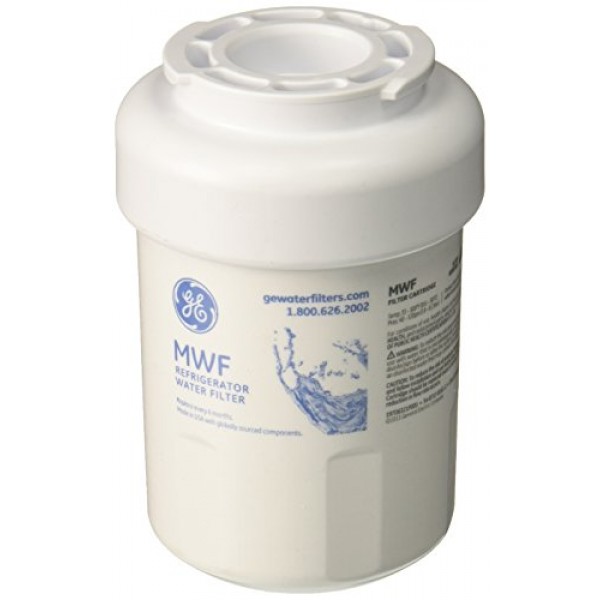 GE's NSF-certified MWF replacement refrigerator water filter—part of the company's SmartWater filtration series—is the improved version of the GWF model, providing you and your loved ones cleaner, healthier, and better-tasting drinking water at home. By reducing contaminants like mercury, toxaphene, p-dichlorobenzene, carbofuran, alachlor, benzene, lead, cryptosporidium, and giardia, the MWF is a safe and affordable way to contribute to a healthy lifestyle.

At a Glance
MWF ReplacementRefrigerator Water FilterAt a Glance:
Fully interchangeable with GWF installations
Certified up to 300 gallons with a flow rate of .5 gpm
Pressure requirement: 40-120 psi, non-shock
Backed by a limited 30-day warranty
At a Glance
MWF replacement refrigerator water filter
GE's NSF-certified MWF replacement refrigerator water filter should be replaced every six months (view larger).
NSF Certified
NSF International is an independent nonprofit organization that examines consumer products to ensure they comply with strict standards for certification. By analyzing product materials, observing manufacturing facilities, testing products repeatedly and monitoring product development, the NSF serves as a safeguard for consumer safety. And the GE MWF is NSF certified.
GE Warranty Information
For a period of 30 days after the date of original purchase, GE will replace (at no charge) and part of the water filter cartridge that fails because of a defect in materials or workmanship. The warranty extends to the original purchaser and any succeeding owner for products purchased for home use within the United States. The warranty does not include service trips to your home for product tutorials; improper installation; failure of the product if it is misused; replacement of the cartridge because of water pressure that is outside the specified operating range; damage to the product caused by accident, fire, or flood; and incidental or consequential damage caused by possible defects with the appliance.
About GE Replacement Filters
It's important to change your filters as recommended to ensure you have the filtered water your home and family need. GE replacement filters make changing filters easy. For example, you'll never have to worry whether you've installed the filter upside-down—their filters can be installed in either direction.
What's in the Box
One GE MWF SmartWater replacement refrigerator water filter.

MWF replacement refrigerator water filter MWF replacement refrigerator water filter
The MWF's new design is slim and compact, making it easier to install and remove while also taking up less space in your fridge (click each to enlarge).