1200W COB LED Grow Light Full Spectrum LAMPSOUL LED Plant Growing ...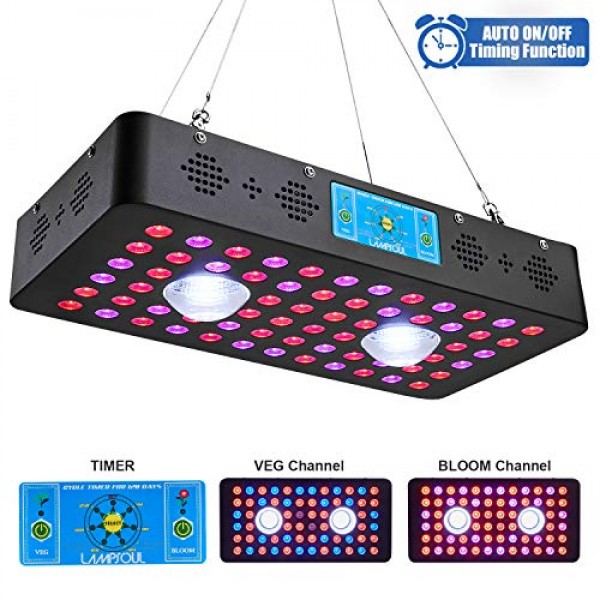 1200W COB LED Grow Light Full Spectrum LAMPSOUL LED Plant Growing Lamp with Auto On/Off Timer and Daisy Chain for Indoor Plants Veg and Flower (1200watt)
Upgrade Spectrum COB and LED Lens Technology LAMPSOUL COB LED grow light comes with two 6000k high lux COBs,higher light density,deeper canopy penetration and smaller thermal resistance.This 1200w cob led grow light used 64pcs 10w LEDs,add the perfect amount of mixed red & blue(445-465nm),red(639-660nm), IR(745-755nm)to the two white COB spectra, produce maximum efficient spectrum, and combine optical Lens magnifying PAR output by up to 50%.
Built in Push Button Timer Auto Turn ON/OFF 1200watt cob led growing lamp comes with 6 timer setting options which allows up to 4/8/12/16/20/24 hours according to plant needs.Also has circular-memory timer function,set up once it will turn on /off automatically for 120 consecultive days.
Double Switch for Veg and Flowering VEG for seedling,BLOOM for flowering and fruiting.BLOOM features a more Red/blue heavy output to deliver maximum performance from flowering through fruiting.
Daisy Chain The power cord can be used for either power or daisy chain,ability to daisy-chain up to 3 lights,increasing the wattage, PAR, and growing region. In addition it won't draw much power from your wall's outlet,and the actual power draw only 289 watts.
Worry-Free Warranty This led grow light package includes 1200watt cob led plant grow light,stainless steel hanger hook,adjustable rope hanger and power cord(Same Use for Daisy Chain),hassle-free 36 monthes.If you have any questions,please feel free to contact us, we will offer you professional guidance to help your plants grow better.