FrostKing Pipe Wrap FV15H - Pack of 6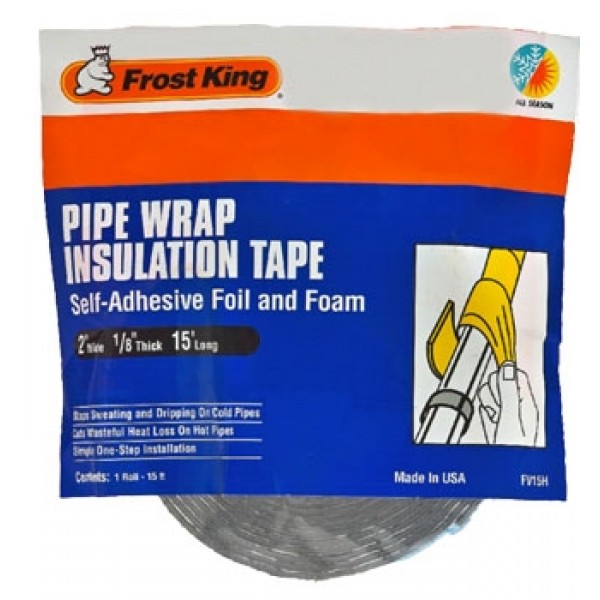 Frost King's pipe wrap insulation tape may be used to insulate domestic hot and cold water pipes carrying water to the tap, or forced hot water pipes carrying water to radiators or baseboard heaters. It will stop sweating on cold water pipes and wasteful heat loss on hot water pipes. This foam insulation does not contain irritating fiberglass fibers, eliminating the need for gloves during installation.
To install, insure the pipe is clean and dry, then coil the tape along the length carefully, so the edges are butted together, not leaving the pipe exposed. This type of insulation may by applied to any diameter pipe, and will wrap around valves and bends as well. It has a foil backing to provide a reflective shield, insulating vinyl foam, and an adhesive on the foam to insure the insulation tape remains in place. It can also help to dampen sound and vibration.
One roll contains 15 feet of tape. The length of pipe able to be covered will depend on the diameter of the pipe and the precision with which the insulation tape is installed. Carefully installed on a 1/2" diameter pipe we at EFI were able to wrap 10 feet of pipe.
Product dimensions: 2" wide x 1/8" thick x 15 feet long (rolled)
R-Value: 2
Packaging: Plastic Bag
Origin: United States of America
Item No EFI-4000.0391