Jewelry Making Supplies Kit, FIXM Jewelry Finding Kit with Accesso...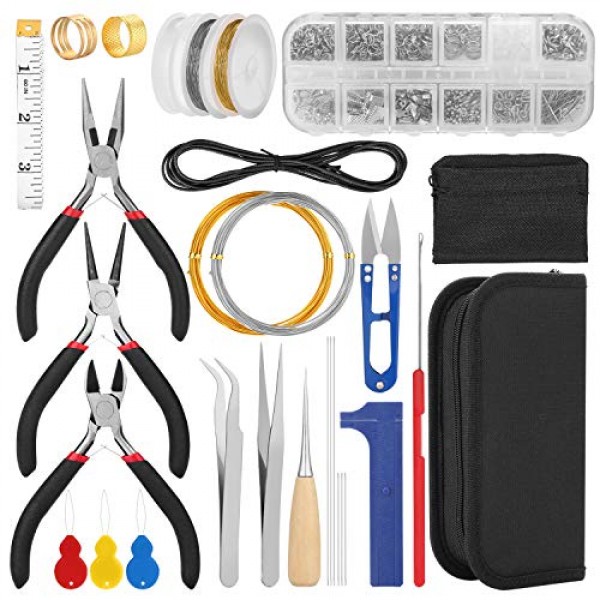 Jewelry Making Supplies Kit, FIXM Jewelry Finding Kit with Accessories Jewelry Pliers, Open Jump Rings, Ribbon Ends, Eye Pins and Earring Hooks, for DIY Jewelry Craft Supplies
Package:
430 * Open Jump Rings
10 * Rubber Earring Back
15 * Lobster Clasps
10 * Earring Hooks
10 * Ribbon Ends
20 * Cord Ends
200 * Crimp Beads
30 * Screw Eye Pins
30 * Eye Pins
1 * Round Nose Plier
1 * Chain Nose Plier
1 * Flush Cutter Plier/ Wire Cutter
1 * Jump Ring Opener
1 * Thimble Ring
2 * Tweezers ( Straight & Curve)
1 * Tape Measure
1 * Caliper
3 * Needle Threaders
1 * Thread Scissors
1 * Awl
6 * Needles
1 *12m*1.0mm Crystal Beading Thread String
1 * 10m*0.4mm Silver Beading Wire
1 * 10m*0.4mm Gold Beading Wire
1 * 5m*1.5mm aluminium wire in Silver
1 * 5m*1.5mm Aluminium Wire in Gold
1 * 3m Black PU Leather Cord
COMPLETE JEWELRY SUPPLIES KIT: The package includes everything you need for DIY jewelry making craft, e.g. the tools with different functions like pliers, tweezers, needle threaders etc. accessories like all sorts of jewelry findings, even crystal beading thread string, gold beading wires in both thick and thin sizes etc. All these tools help you easily DIY your own earrings, bracelets, necklaces and any other trinkets you like.
VARIOUS PLIERS: There are three different types of pliers for you to meet all your needs in the course of making or repairing those jewelries. The round nose plier is used for looping wires for beading and wrapping wires for design. The chain nose plier is made for shaping and bending, opening and closing jump rings. And the flush cutter plier is used as a special memory wire shear to cut wires and headpins.
755 JEWELRY FINDINGS: We provide you with total 755 jewelry findings and components in order to make your own jewelry crafts. For example, the ribbon end is to clip silk ribbon, satin ribbons and other rope materials of a certain width; and it can also be used to clip several chains at the same time and to create a side-by-side effect. The cord end is made to be clipped on a thinner thread or a chain head so as to connect with other accessories.
FIT PROFESSIONALS & AMATEURS: This whole complete set of jewelry making supplies kit is not only suitable for professionals but it is also appropriate to amateurs as well as beginners to do their jewelry making projects, jewelry beading projects, jewelry mending and any other DIY projects that are related to jewelries. All in all, it can be used for making jewelries, simultaneously, repairing the jewelries are also acceptable.
EASY TO ORGANIZE & 100% REFUND SERVICE: We offer you a premium-grade black zip case for all the jewelry tools and accessories to keep your tools clean and tidy. What's more, the jewelry findings are well placed in a 12 grids to keep them organized and safe. You can put a variety of wires and strings into an extra small black pouch. It comes with one-year warranty guarantee and friendly customer service.