Glass Bottle Cutter, Fixm Square & Round Bottle Cutting Machine, W...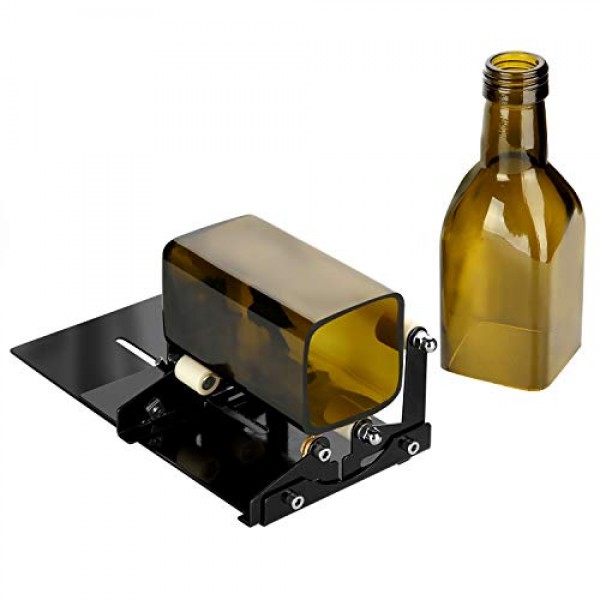 Glass Bottle Cutter, Fixm Square & Round Bottle Cutting Machine, Wine Bottles and Beer Bottles Cutter Tool with Accessories Tool Kit(Upgrade Version)
Description:
FIT MOST BOTTLES:
With width adjustment 0.8"-2.7" and length adjustment 2.4"-5.9", this type of glass bottle cutter is suitable for most bottles, containing wine bottles, beer bottles, whisky bottles and champagne bottles etc. However, anaglyptic bottle cutting is unacceptable.
SPECIALIZE IN SQUARE & ROUND BOTTLE CUTTING:
No longer confined to round bottles cutting, we also design it for cutting square bottles. Therefore, you can cut almost all bottles that you actually prefer with this strong and tough glass bottle cutter.
FILL YOUR LIFE WITH HAPPINESS:
From home to office, you can use this bottle cutter to DIY anything you like, such as making it into wind chimes to decorate your garden or into chandeliers with all kinds of bottles to embellish your cozy house.
Feature:
► Square or Round Bottle Cutting
► Easy to operate
► Bottle Recycle for Environmental Protection
► Creativity & Innovation
Specification:
Bottle Cutting Type: Round & Square Bottle
Product Size: 7.9*3.9*2.2 inch
Package Size: 8.5* 4.3* 3.1 inch
Package Weight: 684g
Package:
1* Glass Bottle Cutter
2* Wheels
4* Sandpapers
1* Hexagonal Spanner
1 * Scale Card ( Small Ruler)
1 * After-Sale Service Guarantee Card
1*User Manual
VERSATILE-USE: This glass bottle cutter is specially designed for cutting square, round bottle as well as bottleneck of round bottles. With width adjustment 0.8"-2.7" and length adjustment 2.4"-5.9", you can easily cut any bottle you like with this bottle cutter unless the bottle is embossed.
EASY TO OPERATE: The bottle can be effortlessly fixed on the bottle cutter and the accessories tool kit that we offer can make the bottle stable and firm, so we can cut the bottle more easily without using too much force. Therefore, you can complete your own works of art in a better way.
BOTTLE RECYCLE FOR ENVIRONMENTAL PROTECTION: Instead of discarding the bottle, we can use it for other purposes, like making square lamps with square bottles, creating a candle lamp or a vase with round bottles, or cutting the bottom of the bottle with grooves to put into eggs or coins. So it can protect our environment to some extent.
CREATIVITY & INNOVATION: There are various of DIY activities in our daily lives to stimulate your ingenuity and imagination for adorning the bottles with different artworks, thus, teeming your life with great joy. Even you are a green hand, the attached instructions is filled with 15 creative ideas for you to enjoy DIY pleasure.
PACKAGE INCLUDES: 1* glass bottle cutter, 1* user manual, accessories tool kits includes 2* wheels, 4* sandpapers, 1* hexagonal spanner, 1* scale card ( small ruler) and 1* after-sale service guarantee card.