Eyebrow Growth Serum – Get Perfect Bolder Brows w/Organic Argan Oi...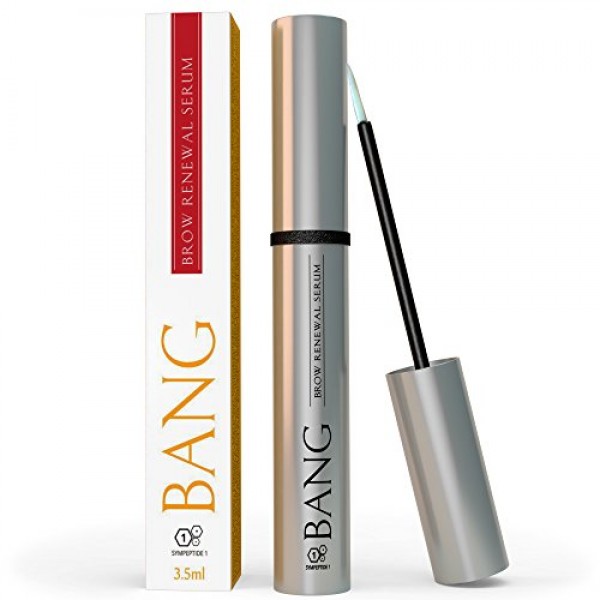 Eyebrow Growth Serum – Get Perfect Bolder Brows w/Organic Argan Oil, Castor Oil & Peptides – Guaranteed
Discover the Secret to Perfect Eyebrows!
Whether you're suffering from chronic hair loss or you're simply a victim of over-tweezing, you
know all too well that most eyebrow growth products fail to deliver results. Often loaded with
fillers and harsh ingredients, they end up doing more harm than good.
Skip the empty promises and get what works with Eyebrow Growth Serum by Nourish Beaute!
We conducted clinical trials that delivered some exciting results: 97% of women saw thicker,
faster growth while 100% of participants were so happy with the serum, they'd recommend it to
friends. It's even a doctor-tested Latisse alternative!
So, what's our secret? We use 3 patented growth formulas with argan and castor oils! Our all-in-
one blend features powerhouse ingredients like complex peptides, biotin and aloe. They target
hair stem cells to promote thicker, faster growth in just 30 days! By strengthening hair and
increasing blood flow to the area, this is a safe, natural way to grow eyebrows.
At Nourish Beaute, we like to bring a little bit of luxury to your daily routine! With ingredients
like cucumber and green tea and an easy-to-use applicator, we're offering quality you can trust
and results you'll have to see to believe.
Why Choose Our Eyebrow Growth Treatment?
- Promotes thicker, fuller brows
- Results in 2-4 weeks
- Minimizes hair loss
- Easy to use
- Made with natural ingredients
Try Today Risk Free with Our Money Back Guarantee!
*Stock is limited. Order today to ensure availability.
Order Your Eyebrow Growth Oil Now for Bold, Beautiful Brows!
168% MORE GROWTH IN CLINICAL TRIALS - 97% of women report thicker, fuller rapid brow growth. 100% were so happy they would recommend it to their friends. Doctor tested Latisse alternative.
3 PATENTED GROWTH FORMULAS + ARGAN OIL AND CASTOR OIL- Complex Peptides, Redensyl and Capixal plus Biotin, Collagen and more, target hair stem cells to create an effective eyebrow growth product that really works in just 2 - 4 weeks
SEDUCTIVE, SHAPELY NATURAL BROWS THAT GET NOTICED - Tinting, pencils, tattoos and eyeshadows look fake. Bang Brow Thickener and Enhancer helps you grow your own billion dollar brows
100% HAPPINESS GUARANTEE - At Nourish Beaute, hair growth is our business. We manufacture a full line of hair growth support products, and put years of research behind each one. That's why we can proudly say, you love it or your money back
TO SAVE ON BANG EYELASH SERUM AND OTHER NOURISH BEAUTE HAIR GROWTH PRODUCTS - See Below