Evening Primrose Oil 4 oz 100% Pure Natural Organic Cold Pressed P...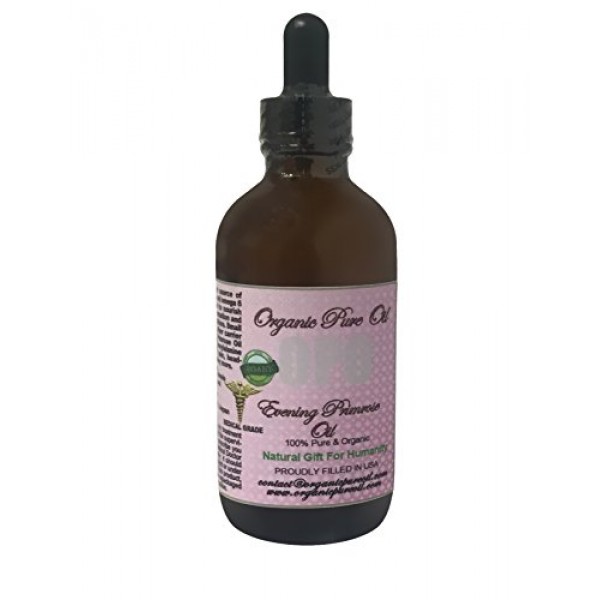 Evening primrose oil is the oil from the seed of the evening primrose plant. Evening primrose oil is used in soaps and cosmetics. Evening primrose oil is used for its amazing health benefits. Evening Primrose Oil Benefits Hair Loss and Skin Health. Primrose oil stimulates circulation, by helping the cells in that area become healthy and nourished. The healthier the cells, the faster dead ones are replaced by fresh skin. Strengthens Hair When applied topically on scalp and hair, evening primrose oil may strengthen the hair and make it less prone to breakage.
EVENING PRIMROSE OIL PROMOTES HEALTHY SKIN HEALTH. Effectively moisturizes and reduces dryness and encourages regeneration of skin cells and keeps skin soft.
OUR EVENING PRIMROSE OIL IS 100% ORGANIC, VEGAN FRIENDLY, CRUELTY FREE, NON-GMO, AND NEVER ANIMAL TESTED.
Using evening primrose oil on a daily basis as a moisturizer for the hair, face and body is a great. Primrose oil helps create smoother skin. Our Cold Pressed Unrefined Primrose Oil can also be used to lighten dark circles around the eyes.
EVENING PRIMROSE OIL PROMOTES STRONG HEALTHY SHINNY BEAUTIFUL HAIR GROWTH. It helps dry, damaged hair and dry scalp. It also soothes inflammation. Evening Primrose Oil can help improve the texture of your hair by providing Omega-6 fatty acid nourishment. Applying evening primrose oil to your scalp can also help strengthen the roots and shafts of your hair making them less prone to breakage.