Hyaluronic Acid Serum 1 Ounce by Eve Hansen. Vegan Hydrating Serum...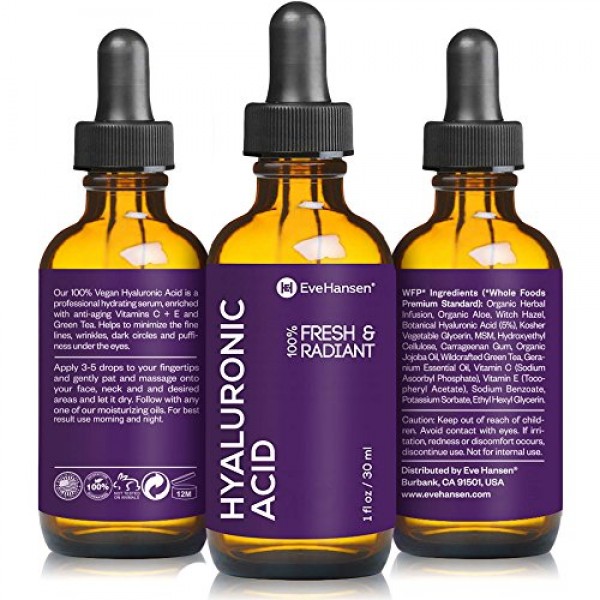 Eve Hansen's Hyaluronic Acid for skin rejuvenation! Use confidently as this moisturizing serum delivers results! As we age, skin moisture can drop significantly, which makes the skin lose elasticity and expose signs of aging on the skin. Hyaluronic acid plays a critical role in skin health with its unique ability to hold in moisture and hydrate your skin. Hyaluronic acid also helps protect skin from the sun's UVB rays which are one of the most skin damaging elements. Organic hyaluronic acid is high in potency and will deliver immediate nourishment and moisture to skin to make it radiate and glow in appearance. Stimulate collagen production and restore healthy moisture levels to your skin with advanced anti aging serum. Suitable for all skin types, including dry, oily, combination, normal, damaged, sensitive and breakout & acne prone skin. Hyaluronic is an instant skin hydrator while enhancing skin firming, tightening, lifting, and brightening. Combine your favorite anti wrinkle cream or moisturizer, and other anti aging beauty products with hyaluronic acid concentrate and see intense results. To begin full and effective skin care regimen, use a cleanser to remove dirt and oils from face. After cleansing, use toner to prepare skin for serum, oil, lotion, and cream absorption. Using vitamin c serum and retinol serum with hyaluronic acid serum makes for the best anti wrinkle serum pack. Our liquid Hyaluronic Acid Serum is made with Certified Organic ingredients (72%) and is 100% Vegan for the highest potency. Paraben, Alcohol, and Fragrance Free. It is a professional hyaluronic gel skin plumper, enriched with anti-aging Vitamins C + E and Green Tea.
✔ SAY GOODBYE TO FACE LINES, wrinkles, dark circles, and eye puffiness thanks to hyaluronic lotion serum.
✔ BRIGHTER & BETTER: Our pure hyaluronic acid is a gentle exfoliator & will give you a revived glow.
✔ EFFECTIVE MOISTURIZER serum: Hyaluronic is the best ingredient to send moisture to dry, damaged skin.
✔ HYDRATION serum: High moisture levels make hyloranic a great facial plumper & lift sagging skin.
✔ 100% VEGAN facial serum with natural & organic ingredients. Love it or its on us if not 100% satisfied.