Enjoy Leave In Conditioner 10.1 Ounce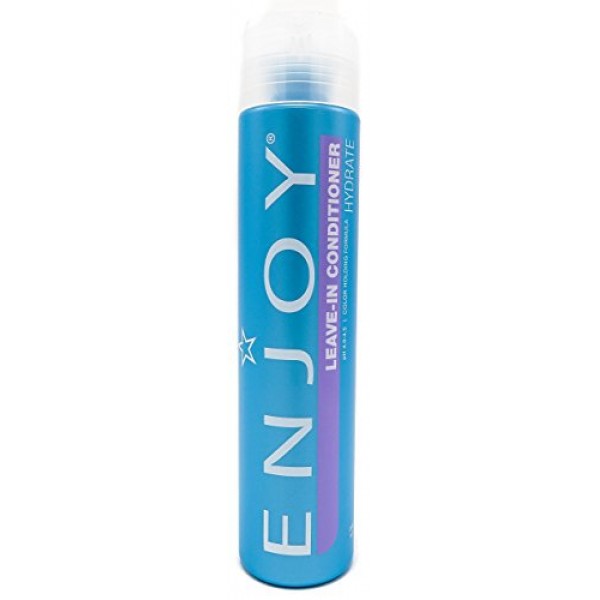 ENJOY Leave-In Conditioner:
For hair that needs extra strength, now there is haircare that's gentle. The ENJOY Leave-In Conditioner system contains ingredients, which strengthens hair after just one use. This hydrating conditioner gently cleanses and nourishes dry hair to leave it strong and silky. Rich lather and natural aromatic properties help energize and invigorate the senses. The ENJOY Sulfate-Free color care conditioner treatment protects and conditions hair for long-lasting color purity.
USAGE TIP:
May be applied to skin as a moisturizer. Excellent for shaving.
POPULAR NEEDS AND USES:
SULFATE-FREE: Sulfate-Free Conditioner, Sulfate Free Dandruff Conditioner
BENEFITS: Detangler Conditioner, Hair Thickening Conditioner, Hydrating Conditioner, Strengthening Conditioner
CLASSIFICATIONS: Natural Conditioner, Organic Conditioner, Color Treated Hair Products
REPAIRING: Repairing Conditioner, Smoothing Conditioner, Moisturizing Conditioner, Hair Treatment
FRIZZ CONTROL: Conditioner recommended for all hair types; gives the hair "extra" moisture, detangling, and protection it needs; leave in or rinse out; excellent for softness and frizz control; longer lasting color; may be applied to skin as a moisturizer; also excellent for shaving.
MOISTURIZING: Leave-in hair conditioner delivers intense moisturization and includes calming anti-frizz benefits without weighing hair down; this advanced smoothing system cleanses and helps tame unruly, frizzy hair, leaving it smooth and soft.
COLOR SAFE: Color safe formula for all hair types; for color treated hair; the anti-fade system for long-lasting color purity; protective formulas that help preserve and maintain color brilliance; color-treated hair requires special care.
SULFATE FREE: Sulfate-free, thickening conditioner for color treated hair infused with refreshing ingredients; this hydrating conditioner softens and adds shine while also fighting split ends.
ADVANCED CONDITIONING: Repair, restore, and revitalize your hair with the ENJOY Leave-In Conditioner; it deeply conditions, hydrates, and moisturizes hair giving it a soft and silky texture; plus it strengthens weak, damaged, and over-processed hair; most popular uses are: detangler conditioner, hair thickening conditioner, hydrating conditioner and strengthening conditioner.