Enjoy Color Holding Hydrating Shampoo and Conditioner Duo 33.8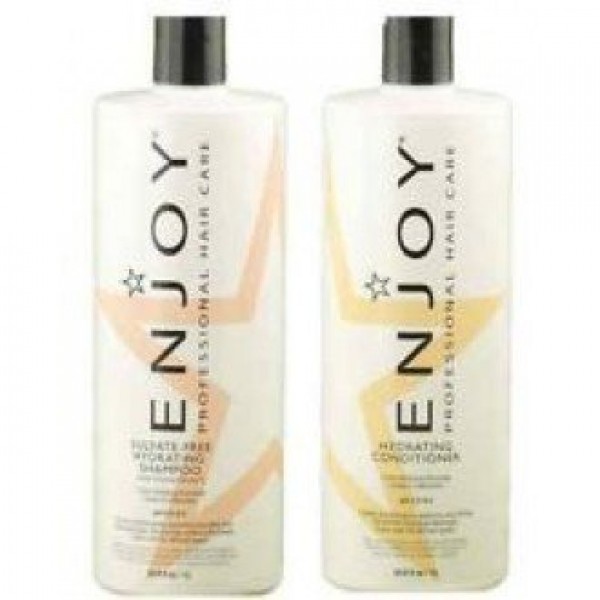 Enjoy Color Holding Hydrating Shampoo and Conditioner Duo (33.8)
ENJOY Sulfate-Free Hydrating Shampoo and Conditioner:
For hair that needs extra strength, now there is haircare that's gentle. The ENJOY Hydrating Shampoo and Conditioner system contains ingredients, which strengthens hair after just one wash. This hydrating shampoo and conditioner gently cleanses and nourishes dry hair to leave it strong and silky. Rich lather and natural aromatic properties help energize and invigorate the senses. The ENJOY Sulfate-Free color care shampoo treatment protects and conditions hair for long-lasting color purity.
POPULAR NEEDS AND USES:
SULFATE-FREE: Sulfate-Free Shampoo, Sulfate Free Dandruff Conditioner
BENEFITS: Detangler Shampoo, Hair Thickening Shampoo, Hydrating Conditioner, Strengthening Shampoo
CLASSIFICATIONS: Natural Conditioner, Organic Shampoo, Color Treated Hair Products
REPAIRING: Repairing Conditioner, Smoothing Shampoo, Moisturizing Shampoo, Hair Treatment
STRENGTHENING: Gently cleanse, moisturize and smooth while relieving stressed out hair and scalp; this advanced luxury shampoo and conditioner system was designed to strengthen, thicken and hydrate all hair types.
VOLUMIZING: Luxurious, 24-hour hair shine and volume that lasts; this shine-enhancing shampoo is specially formulated to remove dirt and styling residue that can make hair look dull; enhances hair's natural light reflectiveness and enhances thickness; makes hair cuticles smooth and aligns hair fibers for amazing shine.
COLOR SAFE: Color safe formula for all hair types; for color treated hair; the anti-fade system for long-lasting color purity; protective formulas that help preserve and maintain color brilliance; color-treated hair requires special care.
SULFATE FREE: Sulfate-free, thickening shampoo and conditioner for color treated hair infused with refreshing ingredients; this hydrating shampoo and conditioner softens and adds shine while also fighting split ends.
ADVANCED FORMULA: Advanced haircare formula absorbs into hair to weightlessly smooth and add shine; specially formulated for fine hair to add thickness; gentle enough for color-treated or permed hair; most popular uses are: detangler shampoo and conditioner, hair thickening shampoo, hydrating conditioner and strengthening shampoo.