justBe Charm Bracelet Making Kit DIY Craft European Bead Silver Pl...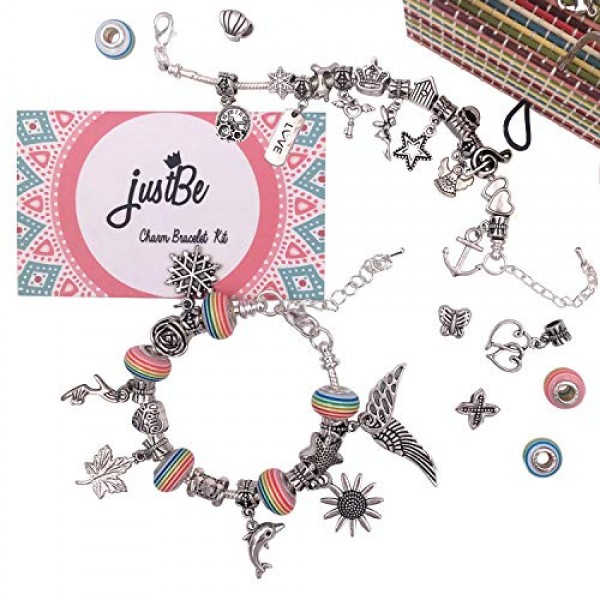 justBe Charm Bracelet Making Kit DIY Craft European Bead Silver Plated Snake Chain Jewelry Gift Set for Girls Teens
Starter bracelet length: 7in/ 18cm, adjustable up to 9in/ 23cm. After putting in beads, the bracelet fits most girls of age 6 years and older with wrist measures 6.3in/ 16cm or more
Material: Silver plated snake chain, Tibetan Silver (Metal alloy) beads, Color glass beads
Beads are prepared to give an aged vintage antique style
Jewelry box dimension: 2.4 x 3.5 x 2.4in/ 6 x 9 x 6cm
Recommended for children of age 6 or older
Package includes: 20x Tibetan silver beads, 15x Tibetan silver beads with dangles, 10x rainbow glass beads, 3x snake chain bracelets, 1x instruction manual card, 1x bamboo jewelry box
FAIRYTALE THEMED BEADS: This jewel set comes with 20 metal beads, 15 beads with dangle and 10 rainbow glass beads. You will find Cinderella's glass sandals and castle, rabbit and clock in Alice in Wonderland, Peter Pan's fairy, Anchor and starfish in Mermaid and many more.
MAKES 3 COMPLETE BRACELETS: This kit includes 3 silver plated snake chain bracelets of adjustable length to fit most girls of age 6 or older. There are sufficient beads to make three full bracelets.
NO TOOL, NO GLUE, NO MESS: The beads can be interchanged easily without tools. Mix and match beads and dangles to personalize and create a fashion statement bracelet for different occasions and moods. The child can also create unique bracelets to give friends and loved ones.
GREAT GIFT IDEA FOR GIRLS: Beads and bracelets come packaged in a small colorful bamboo jewelry gift box, making it a great gift item for girls who like DIY accessories. Also, it can be an entertaining party craft for girls.