DrFormulas HairOmega 3-in-1 Hair Growth Vitamins with DHT Blocker,...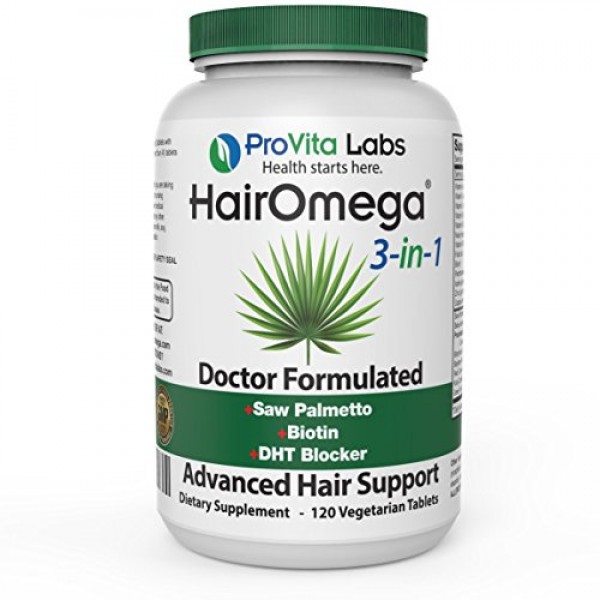 DrFormulas HairOmega 3-in-1 Hair Growth Vitamins with DHT Blocker, Biotin for Women & Men | Hair Skin and Nails Supplement for Hair Loss, 120 Pills
If your hair is looking dull and lifeless or is thinning in patches, then you may not be getting the essential nutrients your body needs to keep you healthy. DrFormulas HairOmega 3-in-1 not only supplies vitamins for hair loss and healthy growth, but also nutrients to improve the feel and appearance of your skin and nails.
DHT Blockers: Promote hair growth with our proprietary herbal DHT blocker which blocks DHT from inhibiting hair growth, literally giving them a new lease of life and boosting your confidence.
Biotin:Biotin can increase hair strength, may reverse hair loss and is often recommended by dermatologists for the initial treatment of hair loss.
Silica: Silica (silicon dioxide) has been shown to help support connective tissue health including hair, skin and nails.
Zinc: Zinc is vital for healthy, young looking skin and prevents the scalp from becoming dry and flaky.
Vitamins C and E: Promote the production of collagen which improves the structure of the skin, and help reduce the effects of aging.
Grape seed extract: Support healthy circulation and the flow of nutrients to the hair follicles of your scalp.
B vitamins: Keep your hair strong and looking lustrous and healthy.
Red clover: Support the balance of your hormones for healthy, ageless skin.
Cysteine and MSM: Supports the production of a hair structural components called keratin and disulfide bridges.
Beta-sitosterol: Support your immune system and keep your hair, skin, and nails healthy all year round.
DrFormulas HairOmega 3-in-1 proprietary formulation of nutrients helps to increase your hair growth and vitality, reinforce the strength of your nails and revitalize the look and feel of your skin.
Hairomega 3-in-1 Hair, Skin, and Nails Formula with DHT Blocker contains Biotin 5000mcg to help support hair growth, beautiful skin and nails.
100% Vegetarian suitable, easy to swallow tablets with no artificial dyes.
5000mcg extra strength biotin means you don't have to buy an additional biotin supplement for hair growth.
Vitamin C to help support collagen synthesis for radiant skin.
Made in the USA in a FDA inspected facility under NSF GMP guidelines for quality assurance. Your safety is our priority.