Dr. Fredericks Original Trigger Finger Splint - 2 Pieces - Doctor...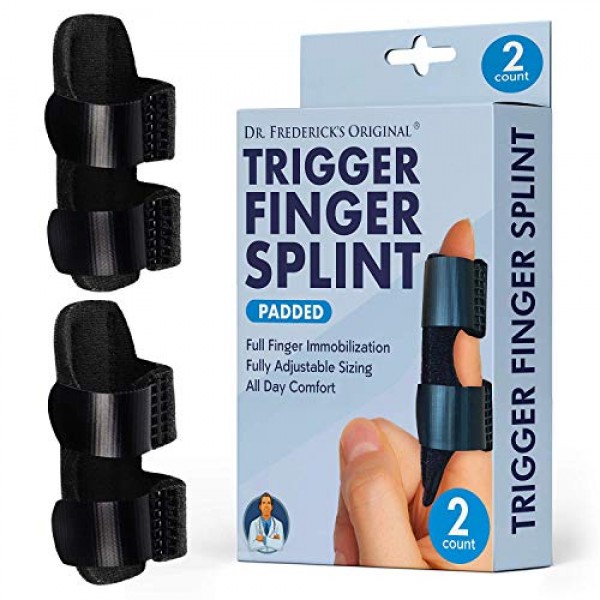 Dr. Frederick's Original Trigger Finger Splint - 2 Pieces - Doctor-Developed Design Fits Index Finger - Middle Finger - Ring Finger
PREMIUM PADDED COMFORT: Unlike other finger splints with sharp, uncomfortable edges, our finger brace is designed for your comfort with doctor-designed padding. Wearing the finger straightener is essential for symptom improvement, so we made sure this brace is comfortable enough for daily wear.
FITS MIDDLE, INDEX, and RING FINGER: No matter which finger is irritated by the effects of trigger finger, arthritis, mallet finger, or a broken finger, our finger support brace is adjustable. Designed with long velcro straps, our finger brace for trigger finger is guaranteed to fit on both hands (index, middle, or ring) or your money back!
INSTANT PAIN RELIEF: Most customers report immediate pain relief when wearing our trigger finger brace. With use over time, our finger splint can reduce the inflammation that causes the pain and discomfort.
FULLY ADJUSTABLE: Our intuitive design is easily adjustable to fit each finger and apply the amount of pressure that feels best to you. Whether you need a trigger finger splint for middle finger stiffness or a splint for broken fingers, this product can be adjusted for your needs.
GET BACK TO IT GUARANTEE: Your results are our top priority. It's part of who we are as physicians. So if your purchase doesn't help you get back to doing what you love, we'll find something that will or we'll give you your money back. That's our promise to help you Get Back to the Original You.