DIY Micro Automatic Drip Irrigation Kit,Houseplants Self Watering ...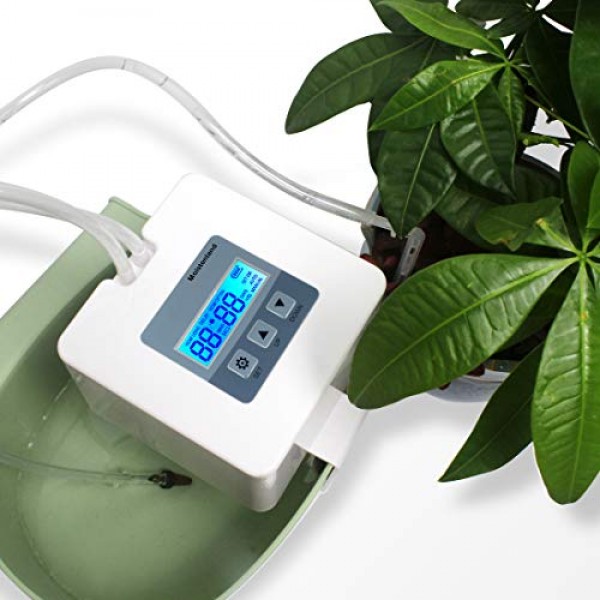 DIY Micro Automatic Drip Irrigation Kit,Houseplants Self Watering System with 30-Day Digital Programmable Water Timer 5V USB Power Operation for Indoor Potted Plants Vacation Plant Watering [Gen 4]
Moistenland's Automatic Drip Watering System is the perfect solution for watering your indoor plants when you're away for the holidays, on vacation, or just short on time.
Auto or Manual Watering and Fertilizing
1. Set the Watering and Interval time to your plants need. The system will automatically water to your set schedule. 2. Water immediately with a single button press on the controller panel without influencing the set watering schedule.
Low Power and Lack Water Detection & Protection
1. The alarm light on the control panel will turn red letting you know batteries need to be replaced. 2. When the water level is low, the system will shut down to protect the pump and beep intermittently. Silence the alarm by pressing any button.
Battery and USB Power
Power with 4 AA batteries or Micro-USB cable and power supply such as a phone charger (minimum 1 Amp requirement). Enjoying peace of mind knowing the AA batteries will act as a backup during power outages.
Save Water and Money
Automatic Drip irrigation system is up to 70% more efficient than other methods. Drip irrigation is directed to the root ball of the plant eliminating run-off and evaporation for healthier more vibrant plants.
Simple Step To Install
Included accessories of our all-in-one drip system are enough for 5 to 10 pots and can be set up in as little as 15 minutes.
SPECIAL NOTE:
Soaking the tubing in hot water will ease installation. Please DO NOT place the water source in a position higher than containers, to avoid causing SIPHON EFFECT.
100% AUTOMATED DRIP IRRIGATION KIT: Combine pump and (30) day timer in 1 automatic drip watering system. Watering home&office potted plants quantitative & timing after simply set up the drip watering schedule and enjoy the freedom of having your plants automatically self-watered.Enjoy your plants thrive and growing healthy, with absolutely no effort!
SCIENTIFIC WATER-SAVING DESIGN: Use 70% less water than traditional spray & drip heads, by spot watering only exactly where needed, making your drip system great for saving water in drought conditions. Intelligent operation can cooperate with the law of plant growth and create a more beautiful landscape
DIGITAL TIMER DISPLAY: Featuring an extra-large LCD screen with bright, easy-to-read text and dial. Programming, set-up, and scheduling is simple. Screen is backlit enabling to set the water timer schedule at night
TWO TYPES OF POWER: Running this system from 4 pcs of AA batteries or Micro USB power. This is the only redundant power system on the market. If USB power fails the pump will continue to run on AA batteries (if batteries are installed).Excellent for urban patios and balconies where faucets are unavailable.
PROGRAM MEMORY:Once programmed, the settings are stored in internal memory automatically. Custom programming and settings will remain in memory even if power is removed. There will be no need to reprogram the water timer every time batteries are changed.