Devoted Creations H.i.m. Gold Edition Lightweight Oil Absorbing Da...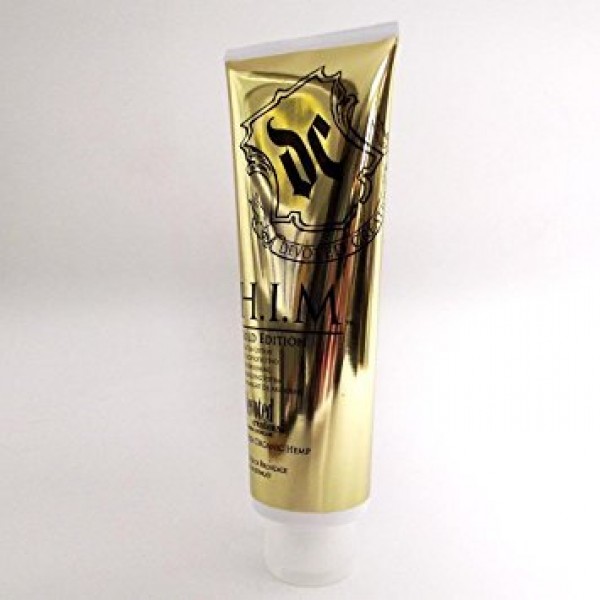 Devoted Creations H.i.m. Gold Edition Lightweight Oil Absorbing Dark Tan Lotion Him 9 oz
Tattoo Protecting - Body Refreshing - Deodorizing System HIM Gold EditionTM is formulated to tan, hydrate and deodorize, dry men's skin. HIMTM allows even your roughest edges to be transformed into skin so touchably soft. Protect your color and your tattoo's with this unique hemp seed oil skin tanning elixir. FreshtekTM will leave you with no after tan odor while Tamanu Oil keeps your skin moisturized. It's okay to have a bromance with HIMTM... we love HIMTM too! Formulated for indoor & outdoor use."
Formulated with various accelerators to speed up the tanning process for faster, darker results. Matrixyl Synthe 6TM - targets and fills in fine lines and wrinkles. Tattoo & Color Fade Protecting formula - Protects the color and luster of your tattoos
Tamanu Oil - A powerful skin regenerator; aiding in wrinkle reducing, blemish-fighting, and moisturize dry skin. Also, helps to hide the appearance of scars and stretch marks. Organic Hemp Seed Oil - Deeply hydrates the skin for better, longer lasting results.
AcquaCellTM - Rapid fine line & wrinkle reducer. Avocado Extract - Helps counter act reddening in the skin caused by irritation, reddening, and razor burn.
Vitamins C & E - protect the skin from environmental damage, promote a more youthful looking appearance. Fresh TekTM - Body deodorizing blend to leave the skin with no after tan odor.
SunXTendTM - extends the life of your tanning results and helps to prevent color fading.