Heath Zenith SL-5408-GR 110-Degree Motion-Sensing Flood Security L...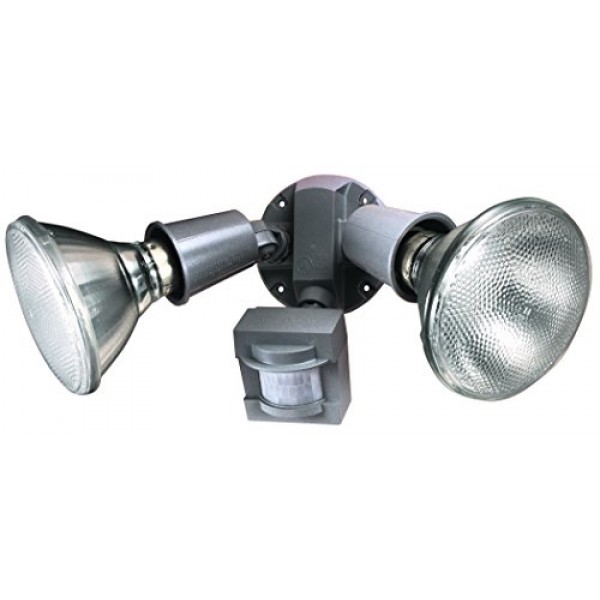 Designed to provide safety, convenience, and security outside the home, the Heath Zenith motion-sensing security light (model SL-5408-GR) provides reliability and peace of mind at a price you can afford. The SL-5408-GR features 110-degree motion detection at up to 60 feet, and it uses two PAR38 flood bulbs (120-watt, not included). This model comes in gray, but it's also available in bronze.
Three selectable modes — 1, 5, or 10 minutes of illumination (view larger).
Studies show that light is the #1 deterrent to crime, and Heath Zenith's intelligent motion lighting fixtures help give the appearance of a startled homeowner turning on the lights to investigate what's going on outside. They also provide convenient illumination when you need it most, whether you're working outside at night or needing to see the steps more clearly to avoid a fall.
Lights are activated when motion is detected, so there's no need to waste electricity by leaving the lights on all night. You can choose between three auto modes — 1, 5, or 10 minutes of illumination after motion triggers the light. However, when constant light is needed, this motion-activated light has a manual override mode that allows it to function as switch-controlled light for constant on, dusk-to-dawn lighting.
Heath Zenith uses superior pulse-count motion detection technology, which prevents false triggering by reading heat and movement in pulses as opposed to single occurrences. As a result, only substantial motion is detected, such as humans and animals.
In addition to being Energy Star certified, this model meets California's Title-24 energy efficiency standards for residential and commercial buildings.
What's in the Box
SL-5408 security light with installation hardware and instructions
About Heath Zenith
Originating from the Heath Company, Heath Zenith has been focusing on intelligent lighting, door chimes, and wireless lighting controls since the 1980s. Today, Heath Zenith offers a broad selection of specialty electrical products built to meet the needs of today's consumer. The company's products are designed to complement any decor and install with ease for even the most inexperienced do-it-yourselfer.
SL-5408-GR 110-Degree Motion-Sensing Twin Flood Security Light, Gray
At a Glance
Up to 60-foot detection range with adjustable detection sensitivity
Turns on lighting when motion is detected, automatically turns lighting off
Photocell keeps the lighting off during daylight hours
Uses two 120-watt PAR38 flood bulbs (not included)
Wall- or eave-mounted
Energy Star certified
Two-year limited warranty