DERMAL Collagen Essence Full Face Facial Mask Sheet, 16 Combo Pack A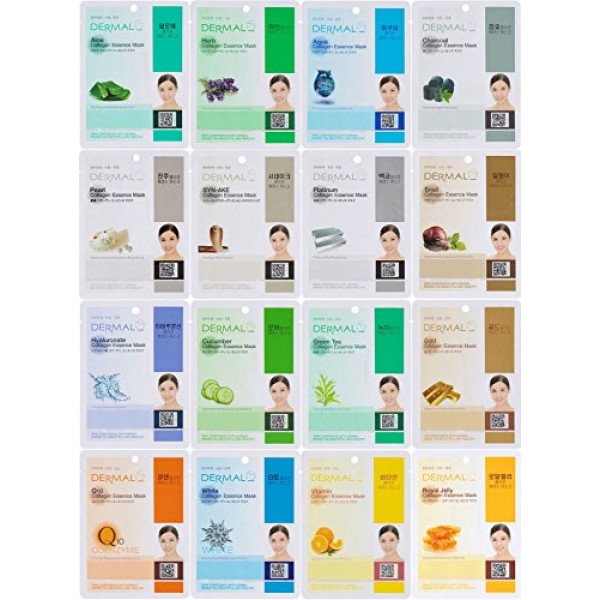 DERMAL Collagen Essence Full Face Facial Mask Sheet, 16 Combo Pack A
Dermal collagen essence mask is a new essence mask which specially formulates cosmetics to penetrate highly concentrated active ingredients into the skin while keeping air out of the skin completely thus, it makes your tired skin moistened, elastic, clear and relieves your skin from stress. Please use 3~4 times per week. Product feature: You feel the difference immediately by using dermal essence mask. After using, it is possible for you to go out without washing face. With its pearl powder and various mineral ingredients, it makes your skin relax, clear and moistened. It includes vitamin e and collagen which keeps your tired skin always healthy and elastic. Product specification/models ingredient: water, glycerin, butylene glycol, hydrolized collagen, aloe barbadensis leaf juice, portulaca oleracea extract, pearl powder, beta-glucan, panthenol, tocopherylacetate, polysorbate 80, disodium edta, xanthan gum, perfume, methylparaben. . 23 G / sheet contain more essence. . Pearl powder 0.02%, Hydrolyzed collagen 0.2 %. Application step 1 - open package and unfold facial wrap. Each mask is for one time use only. Step 2 - apply facial wrap gently smooth outer edges to form to face. Step 3 - lie back and relax for 20 minutes or longer. Direction: thoroughly clean and dry your face before applying the facial wrap. In order to spread the exact evenly pat the pouch 2-3 times prior to opening. Smooth facial wrap using fingertips to position over your face. Lie back and relax for 20 minutes after applying the facial wrap. Remove the facial wrap gently and massage remaining exact serum until completely absorbed. Cream or lotion can be followed if desired. Each facial wrap is for one time use only.
Dermal Korea collagen essence full face facial mask sheet 16 combo pack
16 different types of facial mask will help your skin more healthy, clear and elastic (as pictured)
Contains vitamin E and collagen which keeps your tired skin lively and healthy
Good quality felt soaked with various minerals and ingredients is used for effective absorption
The date shown on the package is NOT the expiration date. It's the manufactured date.