Polymer Clay, DeeCoo 70 Colors 1.2 oz/Block Soft Oven Bake Modelin...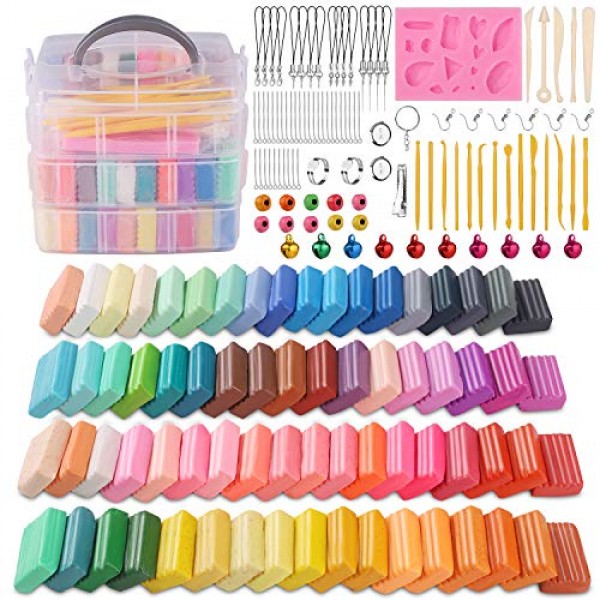 Polymer Clay, DeeCoo 70 Colors 1.2 oz/Block Soft Oven Bake Modeling Clay Kit, 19 Creation Tools and 10 Kinds of Accessories, Ideal DIY Clay Kids Gifts Art Set for Boys Girls
???? Safey Material -- Polymer clay is made of PVC, enviromentally friendly, no smell, no stick hand.And with gem silicone mold,not only good in shape but also in no waste.You will absolutely be satisfied with the clay.
????Creative Accessories-- -Comes with clay tools, bells, beads, pairs of earring hooks,hairpin hoder,brooch holder, ring holders , key ring, gem silicone mold, 9-needles, mobile phone chains and a manual tools. It does help kids release their creativity. Just enjoy using DeeCoo polymer clay and making things for friends and family.
???? Portable & Storage: All Oven baking clays and accessories came in a very cute and sturdy container with 3 layer transparent plastic storage box which makes it easy for storing and portable with durable handle.
???? Easy to work with: Just use your kitchen oven. Set oven temperature of 135 ° C (275 ° F), preheating oven for 10 mintures, then put your clay project into the oven, baking for 10-30 minutes depends on the thickness of the clay, as a general rule allow 15 minutes per 1/4 inch (6mm) thickness. Don't microwave.
???? After Sale -- We treat our customers with sincerity. If you have any questions, please contact us through Amazon and we will give you a replacement or refund.