Sanding Sponge,Coarse & Fine Sanding Blocks in 40/60/80/120 Grit f...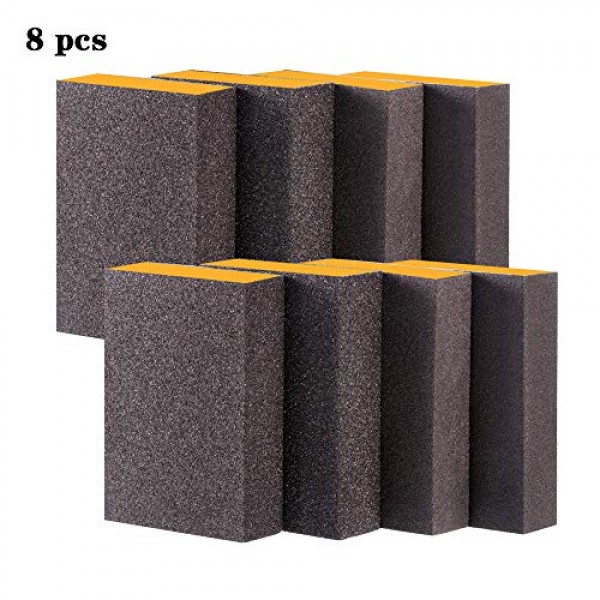 Sanding Sponge,Coarse & Fine Sanding Blocks in 40/60/80/120 Grit for Brush Pots, Polishing Wood and Metal,Washable and Reusable.(8 Pcs)
The sanding spong easily fits into the palm of your hand and is ideal for sanding a variety of surfaces.
Due to it's shape, consturction and controlled flexibility the standard four side sanding sponge block can operate in the most awkard places.
High-quality brown corundum is an extremely tough, wedge shape grain, for high speed penetration of tough materials without excessive shedding or fracturing of the grain.
Great for Wood, Metal, Drywall, and Paint Hi-Performance, particularly suited well for grinding high tensile strength materials as hard woods and alloy steels.
Specifications:
Material: aluminium oxide and sponge
Measure: 3.9 x 2.7 x 1 inch/ 98 x 68 x 25 mm
Grade: 40,60,80,120
Quantity: each grade of sanding blocks has 2 packs, total 8 pieces
Package Included 8 Pcs Sanding Sponge(2 x 40 Grits,2 x 60 Grits, 2 x 80 Grits, 2 x 120 Grits)
Washable and Reusable Can be used wet or dry,and also can be used directly in water.Because of its own water storage function, it can reduce flushing and improve work efficiency.
Quality Using high density sponges as base material, the resilience is excellent, plasticity is strong, and it is not easy to tear.
Specification Grit printed on the sanding sponge, easy to distinguish and use, no need to put all the sand blocks together to compare, at a glance.
Use Suitable for polishing flat and irregular surfaces, wood, paint, metal, plastic or drywall.