CoolGrows 48x48x80 Indoor Mylar Hydroponics Grow Tent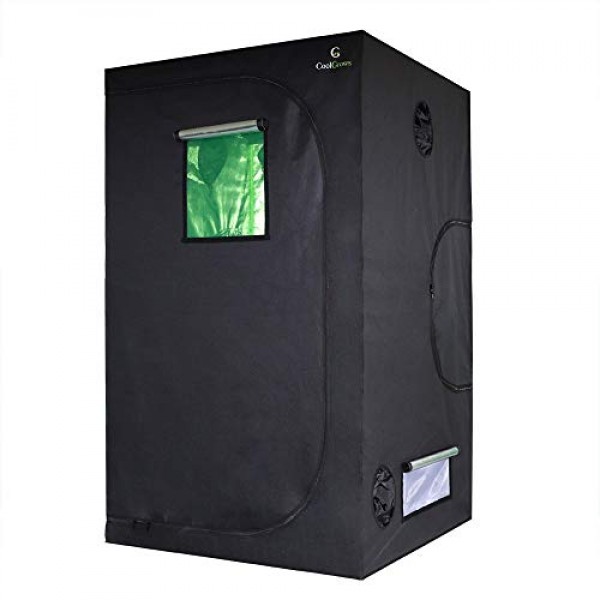 CoolGrows 48"x48"x80" Indoor Mylar Hydroponics Grow Tent
The CoolGrows Grow Tent is ideal for growing beautiful indoor plants easily and safely.Your seedlings will benefit dramatically from the enclosed environment because you have complete control over climate and lighting. This reflective Mylar tent features a highly reflective interior and a heavy-duty zipper system to avoid light seepage and maximize reflectivity of usable light. The exterior is made with heavy duty oxford cloth for durability. The Valuebox grow tent has a front opens out like French doors for easy entry and exit. The frame is made from powder coated metal for strength. Features: 1. Can be mounted with ease 2. High-grade materials and fine workmanship, durable and reliable to use 3. It won't take up too much room 4. With it, plants inside could be well protected from scorching sunshine and rain 5. A good helper for taking care of plants in an eco-friendly way Specifications: 1.Color: Black 2.Size: 48\" ×48\"× 80\"(L X W X H) 3.Material: Heavy Duty 600DOxford Fabrics+ PVC 4.Frame Material: Powder Coated Heavy Duty Steel 5.Inner Lining Material: 100% Highly Reflective Water-Proof Aluminum Foil 6.Mesh Window Size: 14"x 16" Package Includes: 1 x Tent Cloth1 x Bracket Accessory
LIGHT PROOF - Our growing tent blocks all light escaping. On the interior, a 99% reflective mylar lining gives an efficiency lighting setups of any power configuration
TOUGH CANVAS & DURABILITY - The 600D material is tear proof and stitched for perfect light blocking. 99% light proof and fully sealed unit once closed. It is is tear proof and water-resistance. Metal bars and metal connectors. Strong metal poles with easy click connector system. Thick tent material reinforced by the metal poles ensures security and stability.
ATTENTION TO DETAIL - Valuebox grow tents are easy to install even if you've never done something like this before. Zippers zip easily. There are privacy flaps over the zippers and it actually looks like a wardrobe closet, it's all black. Includes a removable & water resistant mylar spill tray, hanging bars and filter straps.
VIEWING WINDOW & EASY ASSEMBLY - The window on the front is a really nice addition cause it amplify your plant's energy store by filtering out white light. So you can check your plants without effecting your plants. You can peek in without having to open the whole thing. Includes an instructional pamphlet for easy set up. This is a great hydroponics growing light kit system starter, whether you want to set up your indoor garden in an apartment, condominium, greenhouse, or any rented space.
TOP CUSTOMER SERVICE -Our Valuebox Growing tent is backed by our exceptional customer service team.