COODIA 15W 200GPH 750L/HSubmersible Pump Fountain with 12 RGB co...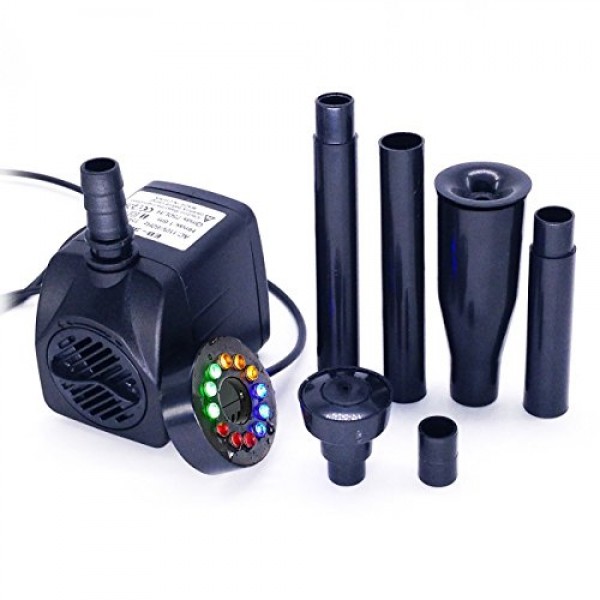 This submersible pump is designed for reliability and ultra-quiet operation to provide years of service. It is anti-corrosive, acid-resisting and durable. This submersible water pump is great for fresh/salt water aquarium, fountains, spout and hydroponic systems.
Features:
-Completely submersible pump.
-Extremely quiet operation.
-Suction cups to fit any aquariums.
-Long lasting wear proof stainless steel shaft.
-Suitable for fresh and sea water aquarium.
-Saving Power and durable.
-Safety and corrosion preventive
-Cable length about 2m
-Max permitted fluid temperature: 50℃
Specification:
-Flow Rate Max : 750L/H
-Power: 15W
-Maximum lift: 1.6m
-Plug wire length 200cm / lamp cord length 70cm
-Dimension: 8*7*5cm
User instruction /Notice
A clogged or dirty intake screen will generally reduce the performance of the pump. Hence, you must wash away the surrounded debris frequently. If less flow is required, adjust the flow control lever.
Package:
-1 Set water pump
12RGB LED light ring, creates beautiful effect
Includes one Blossom and one mushroom fountain head, combination of 3 supplied extension allow adjustable height
Suitable for fresh-water, salt-water. This submersible pump is applied in aquarium, fountains, spout and hydroponic
15 watts power, maximum H-Max:0-1.6M .Easy to disassemble for cleaning
The power-saving, reliability and ultra-quiet design to provide years of service