Canada Green Grass Seed - 2 Lb. Bag, Brown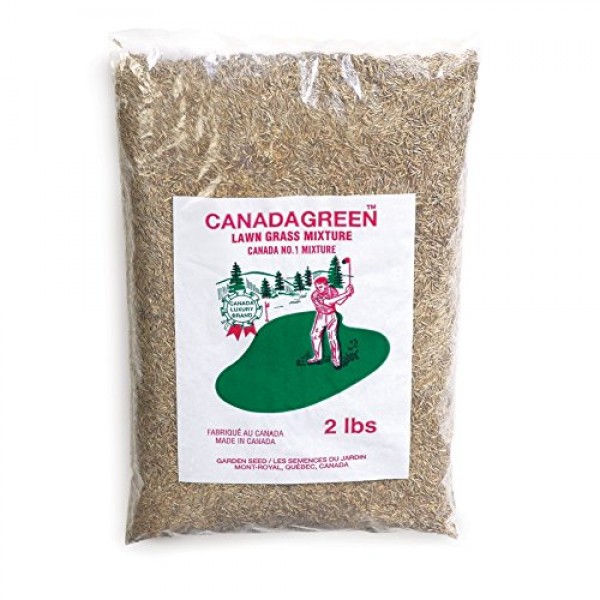 Canada Green Grass Seed - 2 Lb. Bag, Brown
Canada Green Grass Seed - 2 Lb. Bag
Description
Transform your lawn into a lush green carpet that lasts all year long. This hardy variety of grass was developed to withstand the most severe cold, heat, drought, wind and snow. Just scatter the seeds for a beautiful lawn starting in only 5 days. It fills in bare patches on your lawn and is resistant to bugs, diseases, weeds and crabgrass. This 2-lb. bag provides enough seed to cover a 1,000-square foot area. Instructions are included.
Material Type: Seeds

No Risk Purchase, Hassle-Free Returns - 100% Satisfaction Guaranteed
With customer satisfaction as our number one priority, we proudly offer a Satisfaction Guarantee for all of our merchandise and services. From our appealing merchandise and incredible values, to our friendly customer service, we strive to provide a positive shopping experience by meeting or exceeding your expectations.If you are not completely satisfied within 60 days of your purchase (see return policy for details).
Collections Etc - Providing Quality, Value And Service For More Than 50 Years!
A lot has changed since the company's inception over 50 years ago, however the basics of developing and sourcing appealing and desirable merchandise remains the same driving force. Collections Etc is all about smiling more and paying less. They take pride in offering affordable items every day; from classic Home Decor to helpful Home Solutions, whimsical Garden Sculptures and unique Holiday Gift ideas for everyone in your family, even your pets!

Transform your lawn into a lush green carpet that lasts all year long; hardy variety of grass was developed to withstand the most severe cold, heat, drought, wind and snow
Scatter the seeds for a beautiful lawn starting in only 5 days
Made from seeds
2-lb. bag provides enough seed to cover a 1,000-square foot area
Shop with confidence! For over 50 years, Collections Etc has been bringing unique, whimsical, inspirational, and home solution products to customers. All Collections Etc products come with a 60 day, easy return policy and 100% satisfaction guarantee