BITS SmartSurge 10-Outlet LCG3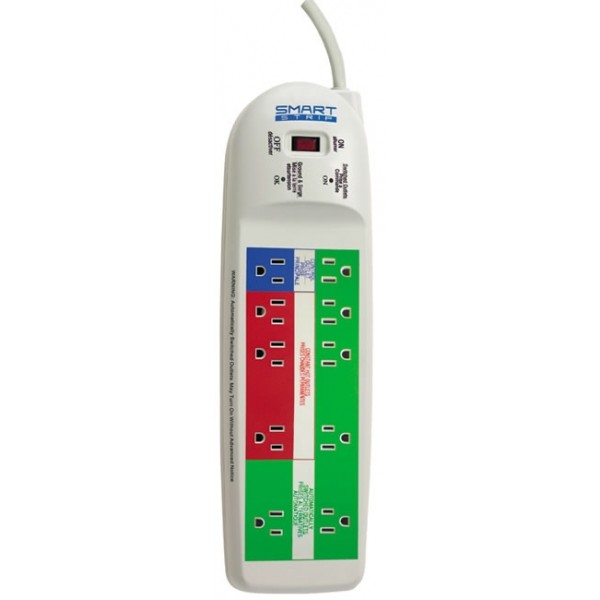 With this 10 outlet Smart Strip Power Strip, the outlets work together, auto-switching your devices on and off automatically, saving you money on your electric bills. Three of the outlets always have power, allowing you to plug-in devices that should never turn off (one of those is transformer-spaced). Of the other seven, one of the outlets is the main outlet, and the other six of the outlets are "controlled" (three are transformer-spaced). Those six controlled outlets will automatically turn off whenever a 10%+ drop in current to the main outlet is detected, and automatically turn on when an increase of 7 watts or more in power to the main outlet is sensed. In other words, plug your computer into the main outlet, and its peripherals into any of the other six. When you shut down your computer, all of the peripherals will also turn off. When you turn on your computer, the peripherals will all turn on.
It has a lighted power switch, and is wall mountable. The Smart Strip has two RC filters to help prevent false switching. The 6 foot long power cord is a heavy-duty power cord. It uses 1 watt of electricity when fully energized, and 0 watts when the switched outlets are off. Its surge suppression and power quality-related electrical specifications include:
Equipment Protection Coverage: $30,000
Electrical Specification: 120 Volt 50/60 Hz
Surge Protection: 2875 joules, 84000 amps, 330 volts
EMI/RFI Filtering: 2 Spike Blocking Bar coil chokes, up to 60 db line noise reduction
UL Listed: Yes
Manufacturer Warranty: 2 Years
Origin: China
Note: This BITs power strip requires a 10% drop in current or more. It may not operate properly with already energy efficient low power devices, such as Apple iMacs, Mac Mini G4s, and laptop computers.
Item No EFI-7005.152