Bioré Charcoal Acne Clearing Cleanser for Oily Skin 6.77oz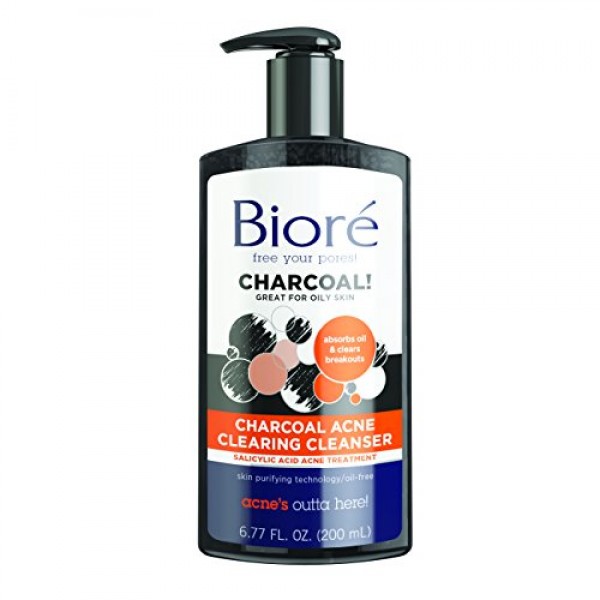 Bioré Charcoal Acne Clearing Cleanser for Oily Skin (6.77oz)
Product Description:
Clogged pores, blackheads, blemishes and excess oil? Biore Charcoal Acne Clearing Cleanser for Oily Skin deep cleans, penetrates pores and absorbs excess oil without irritating or stripping skin's moisture. Charcoal, known for its oil-absorbing properties, works with acne-fighting salicylic acid and skin purifying technology in this cleanser to treat existing acne and prevent future breakouts by cleaning deep down in your pores without over-drying. The result is clearer, softer, smoother skin in just 2 days.
How to Use Biore Charcoal Acne Clearing Cleanser for Oily Skin:
Pump a small amount of product into hands and massage over wet skin, avoiding eye area. Rinse thoroughly and pat dry. For optimal results, use daily.
About Biore Skincare:
Biore Skincare targets the root of all skin problems-the evil clogged pore. So when it comes to dirt and oil we take a no nonsense approach to fight smarter, not harder. Our scrub, liquid, powder, strip, mask and bar cleansing products go straight to the source of those pesky pores for deeply clean, beautiful skin.
Deep cleans, penetrates pores, and absorbs oil to clear breakouts without overdrying or irritation
Helps to control and prevent the development of new acne blemishes
With natural charcoal, salicylic acid, and skin purifying technology, skin is clearer in just two days
Ideal for oily skin
For optimal results, use daily
Dermatologist tested and oil-free