BESTVA DC Series 3000W LED Grow Light Full Spectrum Grow Lamp for ...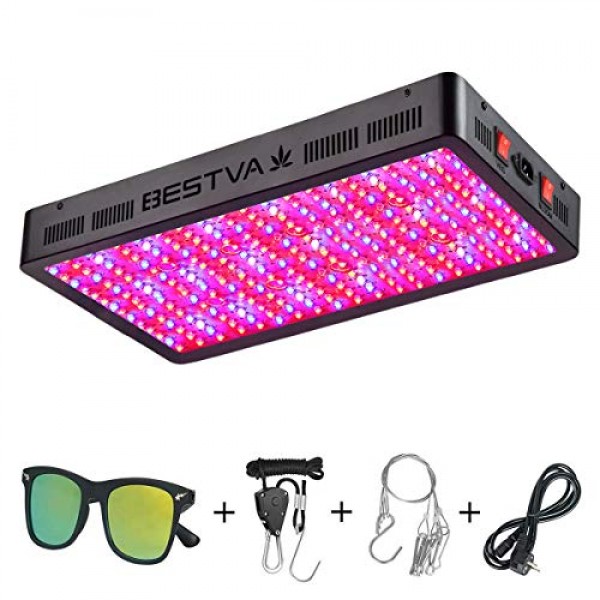 BESTVA DC Series 3000W LED Grow Light Full Spectrum Grow Lamp for Greenhouse Hydroponic Indoor Plants Veg and Flower
Welcome to BESTVA Newest Version Dual-Chip 3000W LED Grow Light, using efficient full spectrum 380-780nm best for indoor plants veg and flower at all growth stages. It is High Lumens, High yields, Low heat.
- BESTVA Spectrum has been developed by indoor growers over many years of careful experimentation and testing.
- Scientifically engineered to keep the balance with high Lumen and suitable Coverage. This design will not far too concentrated in the middle of the growing area which results in stunted plant growth and sunburning
Specifications:
- Dimension: 20.66x11.4x2.36 inches
- Replaces a 2000 watt HPS/MH
- Item Weight: 10.36 pounds
- Full spectrum for all stages of plant growth
- Core Coverage Area: 7.8ft x 7.5ft at 24" Height
- LEDs Angle: 120°
- 300pcs Dual-Chip 10W Bridgelux/Epileds LEDs
- Avg. Power Draw: 615W
- Input Voltage: AC85-265V
- Working Temp: -68~104℉
- Frequency: 50-60Hz
- Lifespan: 100,000 hours
Attention:
- Indoor use only, not waterproof
- Extremely bright, do not look directly
- No extra ballast is needed
- Can be controlled by Timer
Package includes:
1 x BESTVA 3000W LED grow light
1 x 6ft Power Cord
1 x Hanging Kits
3 years warranty:
Return and money back for buyers within 30 days; Free shipping the parts to buyers for a fix within 6 months; If more than 6 months, the buyers should pay the shipping fees.
BESTVA Newest Technology Dual-chip(10W) LEDs which is much brighter and more efficient than traditional 3W and 5W LEDs. It is the HIGHEST PAR/LUMEN OUTPUT PER WATT
VEG & BLOOM Switches Nine different bands of LEDs make up our true full spectrum light, which helps plants, vegetables and flower indoor growing at all stages, just like in the natural sunshine. VEG for growing, BLOOM for seedling / flowering, we recommend lighting for 12-18 hours a day. If your plant needs more energy, please turn on both switches together
Powerful Cooling System We use a 3mm thickness aluminum plate radiator for better heat dissipation. Holes on the aluminum plate and the glass make heat convection, run 50~60℉ lower than any other LEDs
Core Coverage Area Compare to 2000 watt HPS while consuming only 615 watts! Twice effective coverage area than any Reflector Series lights, perfect for a 8' x 7.8' growing area at 24" height. Avoid Daisy Chain, Dangerous First & Energy overlap causes waste
3 years warranty Plus 90 days satisfaction or return guarantee. We are so confident in our products' quality control, if any question pls contact us directly, we will offer you professional guidance to help your plants grow better