ARTEZA 50 Assorted Stiff Felt Fabric Sheets, 8.3x11.8 Squares, 1...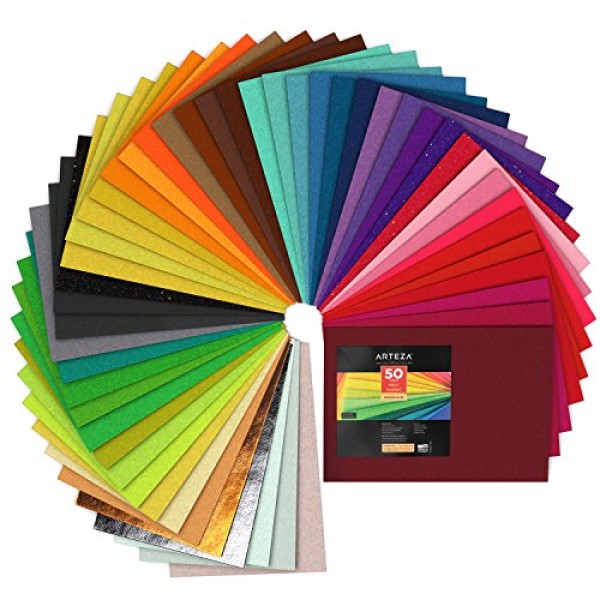 ARTEZA 50 Assorted Stiff Felt Fabric Sheets, 8.3"x11.8" Squares, 1.5mm Thick for DIY Crafts, Sewing, Crafting Projects
Why waste time looking for the perfect pouch, coaster or basket, when you can just make it yourself? Compatible with any tool, your thick felt is easy to shape into any design you wish. What are you waiting for? Make memories that count!
Know any soon-to-be mothers? Use the orange felt or brown felt to sew kids' stuffed animals to hang on the mobile of their newborn baby's crib. He/she will fall asleep watching your heartwarming present circle every night.
What's a better way to get into the holiday spirit than decorating your home? Within your craft materials, you'll find green felt and red felt. Your set even comes with several neons, metallics and glitters, like fluorescent green, metallic silver and white glitter. Create homemade Christmas ornaments with your loved ones and hang them up!
Spend some quality time with your kids or grandkids enriching their creativity. Why not make a felt board together and cut small shapes? Use the pink felt and glitter felt sheets to create flowers, the yellow felt to create a bright sun, or the black felt sheet to go outer space. Years from now, they'll remember these moments fondly.
Regardless of the many creative ways you can utilize your felt pack, you'll create unforgettable moments. Isn't that what arts & crafts is all about?

From rose red and fluorescent green to metallic gold and purple glitter, your fabric sheets come in diverse, rare colors for you to unleash your crafty side!
Isn't cheap fabric irritating? Well, say hello to quality! Your craft felt endures cutting, sewing, gluing, folding, ironing and washing.
Transform 8.3 in x 11.8 in of felt cloth into a heartfelt gift (no pun intended), a comfy pillow, puppets, book covers and more!
Thanks to its stiffened texture, it's easier for you to cut and make 3D figures and clean cut shapes.
Rest assured, satisfaction is guaranteed. Not happy? Just return them for a no-hassle refund or replacement.