API POND ECOFIX SLUDGE DESTROYER Pond Cleaner And Sludge Remover W...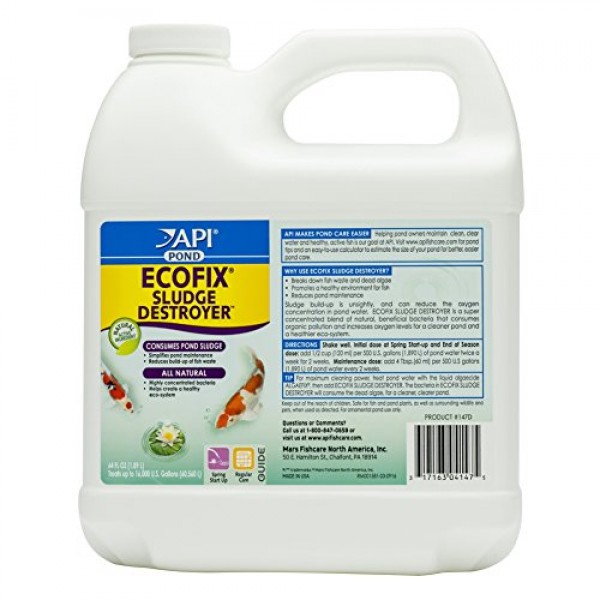 API POND ECOFIX SLUDGE DESTROYER Pond Cleaner And Sludge Remover With Natural Bacteria 64-Ounce Bottle
API POND ECOFIX SLUDGE DESTROYER Pond Water Clarifier reduces build-up of fish waste and consumes pond sludge, which is typically an accumulation of organic matter that degrades water quality and clogs pumps and filters. API ECOFIX SLUDGE DESTROYER contains all-natural, highly-concentrated bacteria to break down fish waste and dead algae, digest leaves and grass clippings, and reduce overall pond maintenance for the season. Use twice a week for two weeks as an initial dose at the start of the season, quick clean-up, and end of season, and once every two weeks for regular maintenance. With API POND products, it's easy to keep a beautiful pond. For over 50 years, API has been creating innovative, research-driven solutions that make it easier to care for your pond. API POND Pond Treatment Supplies are designed to work in conjunction with each other to provide best results to control algae, promote healthy bacterial growth and help control and cure fish diseases and conditions such as ich and fin rot. They work to provide a safe, hospitable environment for fish such as koi, catfish, perch, goldfish and more. With API, you can spend more time admiring your fish, and less time scrubbing your pond. Make sure to use all products as directed in order to ensure the best results.
Contains one (1) API pond ECOFIX sludge DESTROYER Pond Water clarifier and sludge Remover treatment 64-Ounce bottle
Contains natural active ingredients to break down fish waste and consume pond sludge
Breaks down dead algae and digests leaves and grass clippings
Helps to reduce overall pond maintenance and keep pond clean
Use twice a week for two weeks for initial dose, quick clean up and end of season, and once every other week for maintenance