AmScope MU300 3.0MP Microscope Digital Camera, USB 2.0, Includes S...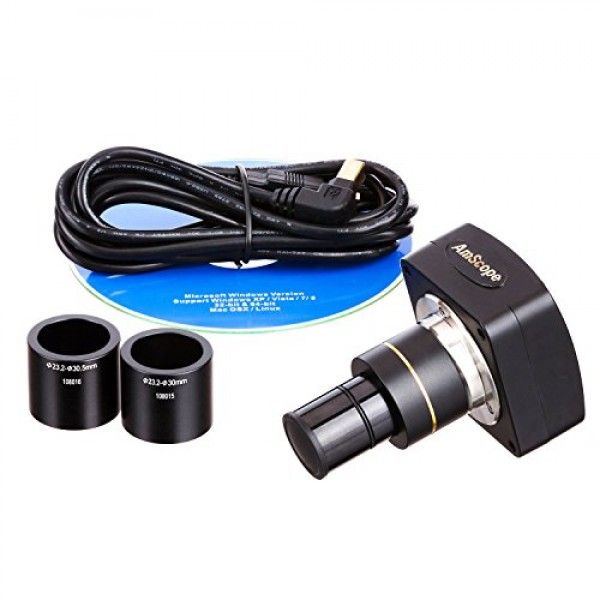 AmScope MU300 3.0MP Microscope Digital Camera, USB 2.0, Includes Software and Reduction Lens
This 3MP microscope digital camera, with its unique stand alone design, comes with a reduction lens, a USB cable and two adapters. The digital camera captures still microscopy images, streams live videos on your computers, and is compatible with Windows XP/Vista/7/8/10, Mac OS X, and Linux. The user-friendly software for Windows offers advanced features including Stitching, EDF (Extended Depth of Focus), video recording, and measurement functions. Live video and still image capture can be set in different resolutions simultaneously. The 0.5X reduction lens gives larger field of view. You can edit and process images in a manner similar to PhotoShop. The stand alone software included allows you to make notes, shapes, watermarks, and precise measurements with ease. You can analyze, present, and share images of samples and specimen by simply plugging one end into your computer's USB 2.0 port, and the other on your microscope's eye-tube or trinocular port. Featuring built-in C-mount compatibility and 23mm reduction lens adapter, our camera can be attached to any instrument with a C-mount or a 23mm, a 30mm and a 30.5mm photo port. The camera is equipped with CMOS color sensor, and comes with a high-speed USB 2.0 cord, four mounting sizes (23mm, 30mm, 30.5mm, and C-mount), and instructions. We are based in the USA and all our cameras come with a life-time of software upgrades.
3MP USB digital camera captures still images and streams live videos on your computers
User-friendly software is compatible with Windows XP/Vista/7/8/10, Mac OS X, and Linux
Sophisticated software for Windows offers editing, processing and advanced features including Stitching, EDF and measurement functions
Support Native C, Directshow, Twain, Labview
Fits four mounting sizes: 23mm, 30mm, 30.5mm, and C-mount (two mounting adapters included)