AmScope MT130-CK 1.3M USB Microscope Live Video Photo Digital Came...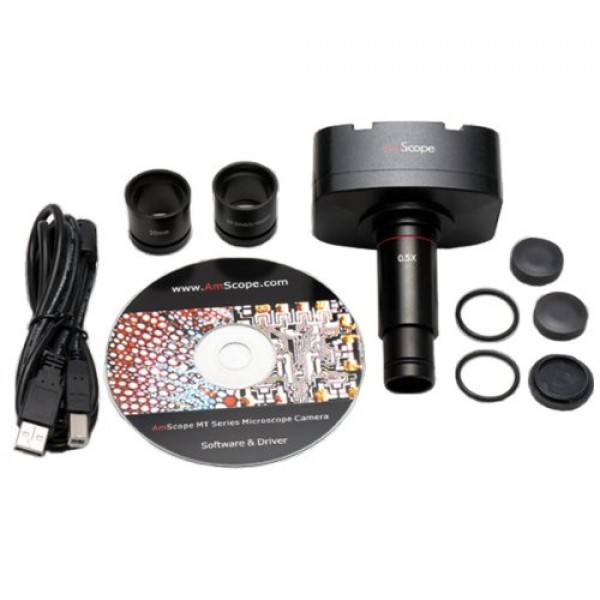 AmScope MT130-CK 1.3M USB Microscope Live Video Photo Digital Camera + Calibration Kit
This new generation AmScope 1.3M (1280x1024) pixel microscope digital camera (MT series) is designed for various demands of scientific digital imaging for analysis and documentation purposes. It offers crisp sharp images and exceptional fast streaming video at 1.3MP resolution on your PC screen together with high resolution still images. Using the calibration kit included, this camera provides precise measurements. It is an ideal instrument for professionals at an affordable price for students. With 1280x1024 effective pixels, the camera captures high-definition microscope videos and stills without requiring any additional equipment. With its unique stand alone design, in addition to streaming live video, the multi-functional AmScope software allows you to record video, edit captures, save image files in a variety of formats--as well as conduct length, area, size, angle, and other advanced measurements accurately. Just plugging the USB cord into a PC's USB 2.0 port and inserting the camera in either a microscope's eye-tube or a trinocular port, you turn the microscope into an advanced analytical instrument. Convert your existing microscope to a digital one with 1.3MP resolution! High quality performance and unbeatable lowest prices guaranteed! All our cameras come w/ a 1-year full-coverage warranty and a life-time of free software upgrades. Its retail value is above $600.
Captures 1.3MP crisp sharp still images and streams real-time live video on your PC screen
Includes microscopy calibration kit for precise measurement
Includes advanced editing, processing & measuring software compatible with Windows 2000/XP/Vista/7
Supports high quality print imaging in BMP, TIFF, JPG and other formats
USB2.0 High speed connection