AmScope MR400 Microscope Calibration Slide, Four Graduated Scales,...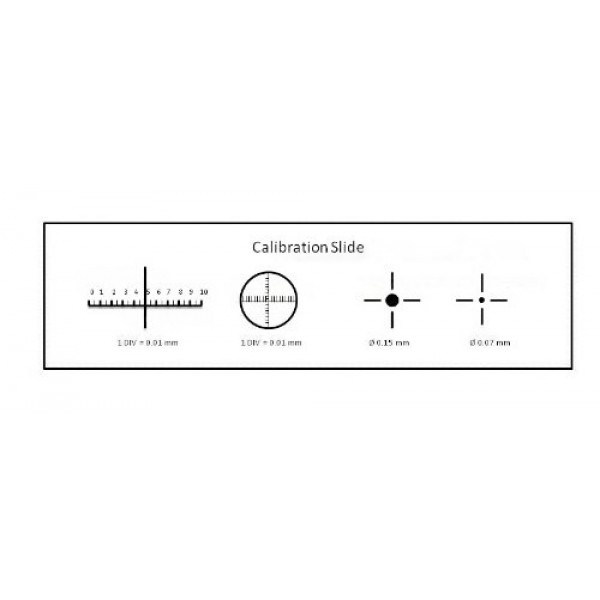 The AmScope MR400 microscope calibration slide has four graduated scales for calibrating microscope eyepiece and camera reticles. The four graduated scales include a 0.07mm dot, a 0.15mm dot, a 0.01mm crosshair, and a 0.01mm single line. Brightly illuminated grid lines on precision-ground glass construction provide accurate readings. The slide comes with a protective case.
Microscopes are instruments used to enhance the resolution of an object or image. Types include compound, stereo, or digital. Compound microscopes use a compound optical system with an objective lens and an eyepiece. Stereo microscopes show object depth in a three-dimensional image. Digital microscopes are used to display an image on a monitor, rather than looking through a lens. Microscopes can have monocular (one), binocular (two), or trinocular (three) eyepieces, with varying magnification abilities. Magnification ability refers to the size of an image. Resolution, also known as resolvant power, refers to the clarity of the image. The interaction between field of view (FOV), numerical aperture (NA), and working distance (WD) determines resolution. Microscopes can control magnification through a fixed focus, or through a range of adjustments. They can also utilize LED, fluorescent, and mirror light sources to help control viewing capabilities. Microscopes are widely used in education, lab research, biology, metallurgy, engineering, chemistry, manufacturing, and in the medical, forensic science, and veterinary industries.
United Scope manufactures microscopy equipment and accessories under the brand name AmScope. The company, founded in 1996, is headquartered in Irvine, CA.
Microscope calibration slide for calibrating microscope eyepiece and camera reticles
Four graduated scales include 0.07mm dot, 0.15mm dot, crosshair, and single line
Brightly illuminated grid lines on precision-ground glass construction provide accurate readings
Includes case