AmScope MD35 0.3MP Digital Microscope Camera for Still and Video I...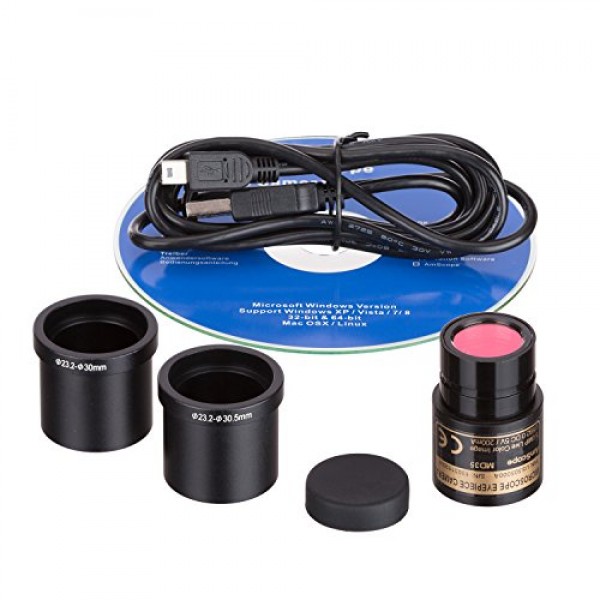 AmScope MD35 0.3MP Digital Microscope Camera for Still and Video Images, 40x Magnification, Eye Tube Mount, USB 2.0 Output, Includes Software
This 640x480 pixel microscope digital camera has a unique design that includes a USB cable and two adapters. The digital camera captures still images, streams live videos on your computers using software that is compatible with Windows XP, Vista, 7, 8, and 10. The user-friendly software offers advanced features including Stitching, EDF (Extended Depth of Focus), and video recording. Live video and still image capture can be set in different resolutions simultaneously. You can edit and process images in a manner similar to PhotoShop. The software allows you to make notes, shapes, and watermarks with ease. You can analyze, present, and share images of samples and specimens using the software. With its easy setup, all you would need to do is slide the camera into your ocular tube on the microscope and plug the USB cord from the camera to the USB2.0 port on your computer. With two adapters, our camera can be attached to any instrument with a 23mm, 30mm or 30.5mm photo port. The camera is equipped with a CMOS color sensor with an instruction manual within the software. Within the package you will find the camera, a high-speed USB 2.0 cord, and two adapters.
0.3MP digital microscope camera for displaying still images or projecting live video to a computer or projector
40x magnification
Mounts in any 23mm, 30mm, 30.5mm eye tube
USB 2.0 output displays images on a computer or projector
Includes image capture and editing software compatible with Windows XP/Vista/7/8/10.