Advanced Clinicals Luxury Pure Argan Oil. Lightweight facial Oil R...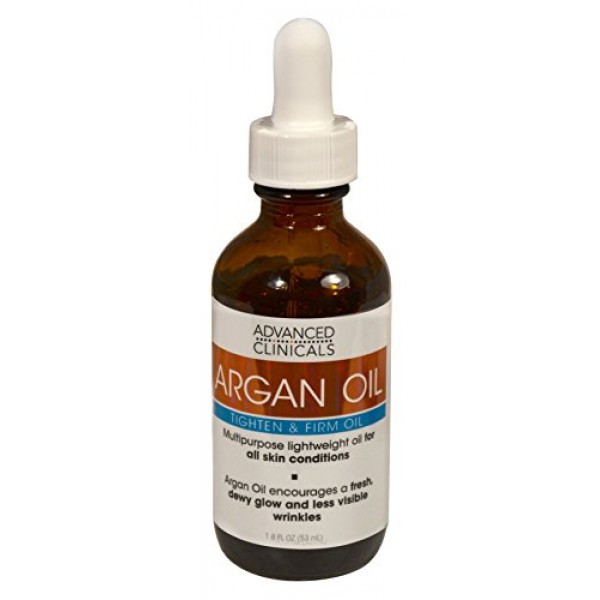 Argan Oil tightens and firms skin. Your multi-purpose antioxidant superstar can be used on your face, hands, nails, and body. Made with 100% Pure Argan Oil, this non-greasy, lightweight, and gentle facial oil is infused with Spanish Lavender, clinically tested to reduce the look of wrinkles. Simply put a few drops in your hands and rub together and pat onto face, neck, or other areas. You can also tame frizzy hair in a pinch. Hydrates and softens dry skin instantly. Imagine just a few drops that can be used all over from your hair to your toenails. Intensive Argan Oil strengthens nails and cuticles and restores skin to a healthy glow. Don't look anywhere else, if you want the full package, get your Argan Oil Tighten & Firm today. For best results, pair this with one of our Advanced Clinical Serums!
HAND CRAFTED OILS chosen for firming and tightening results, absorbs quickly and easily. Non-greasy.
PURE ARGAN OIL FOR HAIR- Multi-purpose Argan Oil can be used on split ends and frizzy hair as well as nails and cuticles
NATURAL ARGAN OIL. PARABEN FREE formula is naturally rich in Vitamin E, making it the perfect moisturizer and antioxidant superstar. Also used for wrinkles, scars, stretch marks, rashes, burns, acne scars, dry skin, dermatitis, age spots, brittle nails, hyper-pigmentation, radiation and sun damage, dry & damaged hair.
Perfect and safe for all skin conditions, doubles as a face oil and body oil. Tighten & firm.
Made in the USA, strict quality control FDA Regularly inspected & registered OTC drug facility. Not tested on animals. 100% satisfaction guaranteed or your money back.