Advanced Clinicals Anti-Aging Collagen Cream and Collagen Body Oil...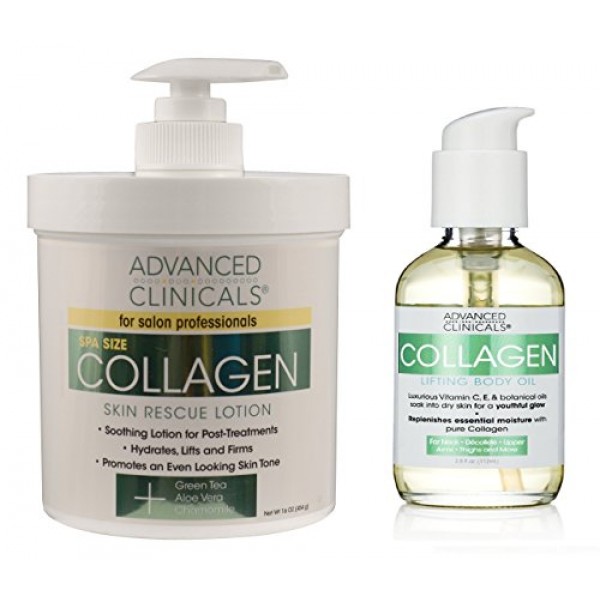 Advanced Clinicals Anti-Aging Collagen Cream and Collagen Body Oil Set. Large 16oz cream for face and body and 4oz body oil helps firm and tighten skin.
Advanced Clinicals skin care has you covered from your head to your toe. Moisturizing collagen cream helps with sagging skin on your body and can be used to help fight wrinkles and fine lines on your face. Collagen body oil formulated with 98% pure plant oils to visibly lift and firm aging skin. Collagen plumps skin for smoother looking skin tone. Natural oils moisturize and hydrate dry skin. Results youll see instantly, Collagen locks in moisture for a supple appearance. Great to be used on neck, decollete, upper arms, thighs, tummy and more. Antioxidant Vitamin C Oil supports healthy collagen levels to lift and tighten mature skin. Anti-Aging Abyssinian Oil restores visible elasticity to sagging areas. Sweet fragrance will leave you wanting more!
Value skin care set has you covered from head to toe! Anti-aging Collagen Cream helps eliminate the appearance of wrinkles, fine lines and sagging skin on your body and face. Collagen lifting body oil helps firm and hydrate skin. Great to use under your eyes, neck, decolette, and hands. The best day cream to treat tired-aging skin.
Large 16oz cream with convenient to use pump will last you months. Tighten problem areas, hydrate, moisturize and firm the skin around your eyes. Soothing lotion is great for post-treatment, after surgeries and to help reduce the appearance of scars.
Luxurious anti-aging body oil with natural ingredients replenishes moisture to your skin and give you the results you have been looking for. Within 7 Days: Skin is dramatically lifted, more hydrated, and soft to the touch. 28 Days: Vitamin C helps reduce visible discoloration, sagging and lost elasticity.
Fast-absorbing and Non-greasy body oil contains Vitamin C, Vitamin E, and natural botanic oils soak into dry skin for a youthful glow. Satiny-smooth hydrator is rich in pure Collagen, essential Vitamin E and skin-loving antioxidants.
Paraben-free. Trusted formulas. Manufactured in the USA. Not tested on animals. 100% Satisfaction Guaranteed.