Advanced Clinicals 2 Piece Anti-aging Skin Care set with collagen....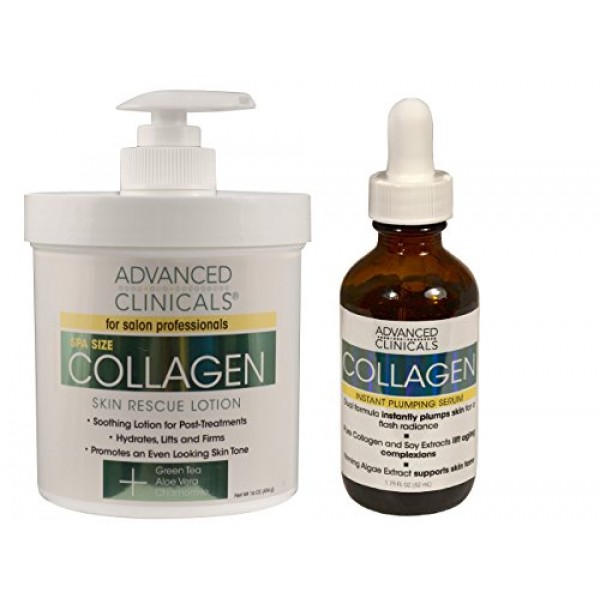 Advanced Clinicals 2 Piece Anti-aging Skin Care set with collagen. 16oz Spa Size Collagen Lotion And 1.75oz Collagen Instant Plumping Serum To Hydrate, Moisturize, Firm, Dry, Cracked Skin.
Advanced Clinicals skin care set of 16oz collagen cream and collagen serum is your skins answer to fine lines, wrinkles and sun spots. Unique formulas with powerful anti-aging ingredients attack the areas you need it most, while not over drying your skin. Leave your skin feeling soft and refreshed with the collagen beauty cream, that comes in a large 16oz bottle so you can use it as a facial moisturizer or a anti-aging body cream. The collagen face serum combines unique anti-aging ingredients with natural extracts to bring back your youthful glow and get rid of unwanted skin issues. Non-irritating forumlas are safe to use on all skin types dry skin, oily skin, combination skin, sensitive skin.
The best anti-aging cream. Advanced Clinicals Collagen lotion helps eliminate the appearance of wrinkles, fine lines and sagging skin. Great to use under your eyes, neck, decolette, and hands. The best day cream to treat tired-aging skin. Spending too much time in the sun? This unique blend of ingredients helps bring back your youthful glowing skin.
Collagen anti-aging serum will instantly hydrate your skin. This face serum for wrinkles also will help eliminate the appearance of fine lines, dark circle, puffiness and age spots leaving your skin feel softer and firmer. This unique anti-aging serum with collagen also contains natural ingredients like aloe vera, olive oil, rosemary, lavender, and soy extracts to help provide hydration to your skin
2 piece skin care set will last you months! Most collagen creams or other collagen serums come in .5oz or 1oz jars that only last you a short time. This collagen cream comes in a 16oz Spa size jar with convenient to use pump. Large enough to be used as a body moisturizer but gentle and effective to hydrate and moisturize dry skin while plumping sagging skin. Anti-aging serum with collagen is 1.75oz, double the size of most face serums!
Collagen X 2 - Not only will our Collagen Lotion help to diminish the signs of aging but our Collagen Instant Plumping Serum is the key to firmer, more youthful looking skin. Packed with anti-aging ingredients such as soy extracts and Pro-Coll One that targets sagging skin and facial lines. Instantly plump your skin for a flash of radiance!
Paraben-free. Trusted formula. Manufactured in the USA. Not tested on animals. 100% Satisfaction Guaranteed.