About Time 100% Whey Protein Isolate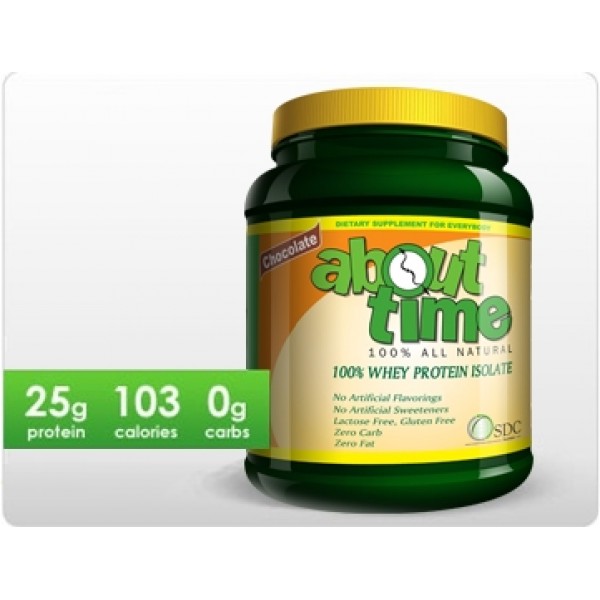 The time for compromising taste of healthy nutrition has ended. One sip of About Time Whey Protein Isolate, and you'll know this is something special. No chalky aftertaste. No artificial sweeteners. Just a clean, natural protein supplement with a taste you'll appreciate and a superiority your body will feel. Delicious enough to mix with just water, great in skim milk, a smoothie or added to your favorite yogurt. Professional athletes, weekend jocks and active people of all ages have discovered About Time is great before or after a workout, and an ideal snack between meals.
The About Time difference
All protein supplements are not equal. Unlike most other protein supplements, About Time is cold-pressed micro-filtered whey isolate which means the protein is absorbed more efficiently into your body. About Time is 100% natural. Just look at the label, it has only 4 ingredients! For those managing diabetes, be assured that About Time is sweetened with Stevia, a naturally occurring no-calorie sweetener that does not affect blood glucose levels.
Choose natural
• Cold Pressed Micro Filtered Whey Isolate
• No Artificial Sweeteners
• No Growth Hormones
Enjoy flavor
• Exceptionally Good Tasting with No Chalky Aftertaste
• Delicious Enough to Simply Mix with Water, but also great in Yogurt, Milk or Smoothies.
Read the Labels
• 100% Natural
• Just 4 Ingredients – Keeping It Simple and Clean
• Lactose Free
• Gluten Free
• Zero Carbs
• Zero Fat
Excellent fit for Everybody
• Equally beneficial to Men and Women
• Diabetic Friendly
• Excellent Post- and Pre-Workout
Available in 7 great flavors:
Chocolate • Vanilla • Strawberry • Peaches & Cream • Cinnamon Swirl • Birthday Cake • Mocha Mint • Peanut Butter • Chocolate Peanut Butter • Banana • Unflavored
Item No AT-001