Abilitations Yuk-E-Ball Medicine Ball - 1.1 lbs 50g 4.5 inch Dia...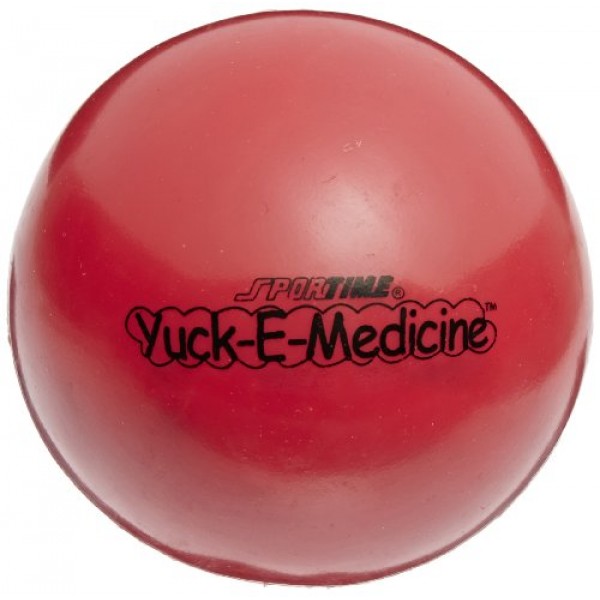 Abilitations Yuk-E-Ball Medicine Ball - 1.1 lbs (50g) 4.5 inch Diameter - Red
Abilitations red medicine ball is used for tactile and heavy input work, and has a pliable foam skin with a filling of small polyvinyl chloride (PVC) balls in a non-toxic gel that contours to fit the hands, feet, and curves of the body. Polyvinyl chloride (PVC) is corrosion resistant and lightweight, and has high strength. It resists reactions with acids, gasoline, alcohol, and hydrocarbons. The rolling of the interior balls provides a tractor-like movement for both massaging and stimulating the body, and they form fit to hands to offer comfortable handles for holding and lifting when the ball is grasped. The ball measures 4.5" in diameter and weighs 1.1 lb./50.0g. The ball can be used as a fidget toy, and for squishing, sitting, catching, stacking, rolling, and balancing activities. The ball includes an activity guide with suggestions for use, and a material safety data sheet (MSDS) for product information and handling procedures. The ball is suitable for age 4 and older.
Special needs products are designed to help improve sensory processing, positioning and mobility, fine motor, and language and communication skills for students with learning challenges. Language and communication products can help individuals improve articulation, vocalization, augmentative, vocabulary, reading, and social skills.
School Specialty provides instructional materials and supplies under dozens of brands, among them Abilitations, Think Math, Delta Education, Frey Scientific, Neo/SCI, Childcraft, School Smart, Sportime, and Speech Bin. The company, founded in 1959, is headquartered in Greenville, WI.
What's in the Box?
(1) ball
Activity guide
Material safety data sheet (MSDS)
Red medicine ball for tactile and heavy input work
Foam outer skin with filling of small polyvinyl chloride (PVC) balls in non-toxic gel for contouring to fit hands, feet, and curves of body
Rolling of interior balls provides tractor-like movement for both massaging and stimulating the body
Form fits to hands to provide comfortable handles for holding and lifting
Measures 4.5" in diameter