Green Leaf Naturals Aloe Vera Gel for Skin, Face and Hair, 8-Ounce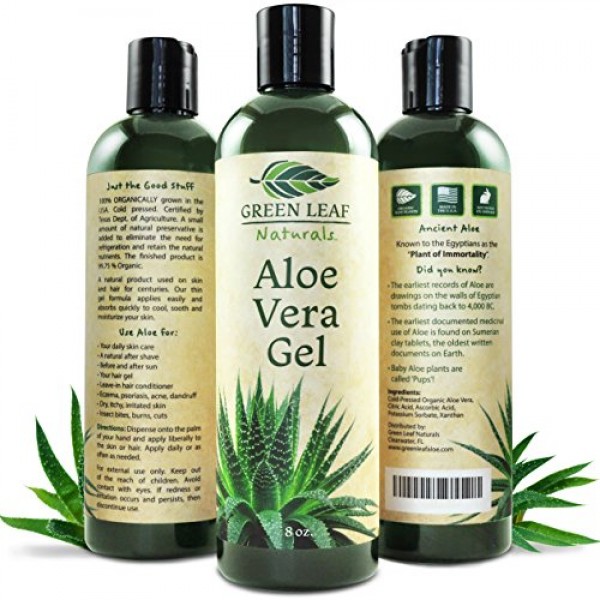 Green Leaf Naturals Aloe Vera Gel for Skin, Face and Hair, 8-Ounce
Only the Good Stuff! Premium Quality Pure Aloe Vera Gel (Thin Gel Formula)
Are you sick and tired of the thick, sticky aloe vera gels filled with harsh petroleum and alcohol additives that you find on the shelves of your local big chain grocery and drug stores? The ones that say "100% Gel" but actually have very little aloe in them? Yes? Then switch to Green Leaf Naturals brand!
Our premium quality Aloe Vera Gel is cold-pressed from 100% organic aloe vera plants grown in Texas and certified by the Texas Department of Agriculture. Our bottles contain 99.75% certified organic Aloe Vera Gel. The remaining 0.25% is a very small amount of safe preservatives to eliminate the need for refrigeration and just enough natural thickener (a tiny amount of xanthan) to help the aloe coat and penetrate your skin smoothly.
Try our cold-pressed, organic aloe vera gel today!
Common Uses and Homemade Recipes
Our Aloe Vera Gel works great as an aftershave or light hair gel and promotes faster healing of sunburns, cuts, burns, scrapes, bug bites. It can also be used on common skin conditions such as dandruff, dry skin, rashes and acne.
Our ultra pure Thin Gel Formula is the perfect ingredient for homemade recipes. Use it to make soap, lotions, creams, skin moisturizers, sunblock, aftersun lotions, salves, ointments, lip balms, massage oils, hair gels, shampoos, conditioners, and much more.
Order today and get creative!
Guaranteed Satisfaction
At Green Leaf Naturals we guarantee 100% complete customer satisfaction. If you are not completely satisfied simply contact us for a full refund or replacement with no questions asked.
ORDER TODAY AND ENJOY THE BEST ALOE VERA GEL YOU CAN BUY!
Contains 99.75% pure organic aloe vera gel; cold pressed from certified organic aloe vera plants
Thin aloe gel formula spreads evenly and penetrates easily with no sticky mess; not thick and gooey
Use as a daily moisturizer for face, skin, hair; moisturizing after shave lotion for men and women
Make DIY aloe vera products; aloe vera infused socks and gloves; DIY moisturizer cream, skin cream
Paraben free; no petrochemicals; no dyes; no alcohol; cruelty free; kid safe; pet safe; made in USA