Biotin Shampoo and Conditioner Hair Loss Treatment for Thinning Ha...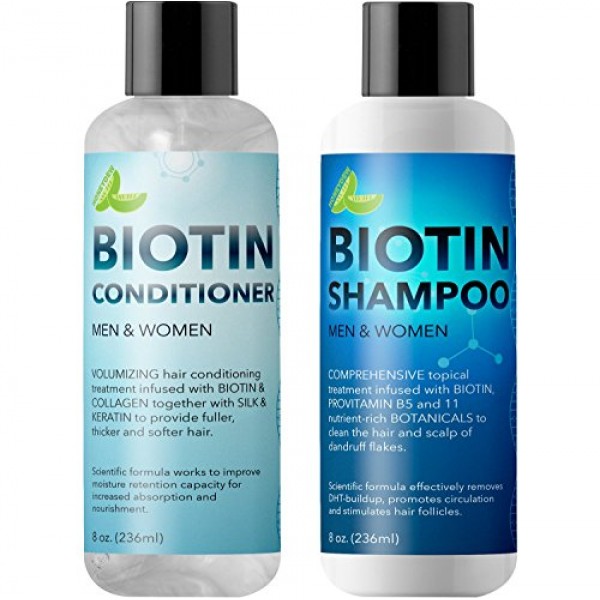 Biotin Shampoo and Conditioner Hair Loss Treatment for Thinning Hair - Hair Follicle Stimulator for Fuller Thicker Hair Growth - Revive Damaged Hair with Natural Jojoba Oil Argan Oil Sea Buckthorn
Our Biotin Shampoo and Conditioner set is a comprehensive topical treatment. It is rich in hair vitamins, botanical oils, and nutrients to naturally clean the hair and scalp, decrease dandruff flakes, stimulate hair growth, and promote nutrition of the hair and scalp. These products are natural DHT blockers and hair growth products with moisturizing nourishing ingredients for silky lustrous hair and beautifully hydrated locks.
Biotin is a natural DHT blocker and hair growth stimulator. It improves hair thickness, gives you stronger hair, improves scalp health, and helps keratin bind the hair to follicles so that there is less shedding
Aloe Vera repairs and conditions the scalp also reducing dandruff and itching Shea butter moisturizes hair and scalp leaving it silky smooth/li>
Hibiscus nourishes your hair and is great for fighting hair loss and stimulating hair regrowth
Sea buckthorn and evening primrose have rich fatty acid contents which help improve overall hair and scalp health giving your hair a beautiful natural looking shine
Collagen natural amino acid helps strengthen hair follicles and improve hair growth Jojoba and Coconut Oils assist in removing sebum on the scalp and promoting hair growth and will protect hair from breaking and drying up
Argan oil is rich in antioxidants and promotes healthy hair growth, moisturizes the scalp, and fights dandruff
Phytokeratin strengthens and shines hair by penetrating the hair shaft and enhancing the hairs ability to retain moisture
Biotin Shampoo and Conditioner Set is rich in hair vitamins nutrient rich botanicals. Good for use on all hair types; curly, fine, straight, and color treated hair. These products are gentle and safe for color treated hair. Biotin shampoo and conditioner is made with fine quality natural ingredients. Sulfate free formula, hypoallergenic, and safe for use on sensitive skin. Our products are made in the USA and are cruelty free.

✅HAIR THICKENING SHAMPOO AND CONDITIONER for thinning hair B vitamins and botanical oils provide deep hydration reverse hair loss and improve scalp circulation and hair volume for long thick hair
✅BIOTIN NATURAL DHT BLOCKER can reverse balding by reducing DHT buildup in the hair. The nourishing hair vitamins in this hair care set will give you lustrous silky hair and a hydrated healthy scalp
✅MONEY BACK GUARANTEE we stand by our products and take customer satisfaction seriously and will provide a full refund for your purchase if you are not satisfied with the results of our product
✅THIS SET IS SULFATE FREE PARABEN FREE and cruelty free. Hypoallergenic made in the USA with nutrient rich natural ingredients and hair growth vitamins. Safe for color treated hair and sensitive skin
✅DEEP CONDITIONING HAIR TREATMENT with nourishing Shea Argan Oil Phytokeratin Jojoba Oil Tea Tree Oil Coconut Oil Evening Primrose Collagen Aloe Vera Hibiscus Green Tea Zinc and B complex hair vitamins