Advanced Clinicals Retinol Cream and Collagen Cream Skin Care set....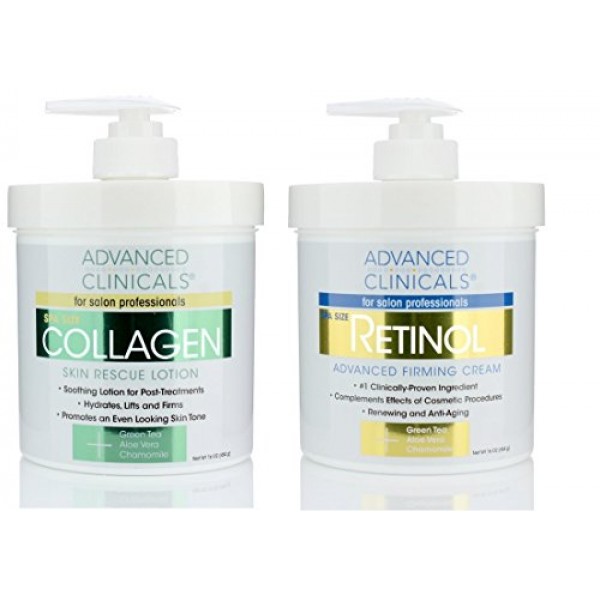 Advanced Clinicals Retinol Cream and Collagen Cream Skin Care set. Value anti-aging set for wrinkles, fine lines, firming skin. 16oz Spa size are great for face cream and body moisturizer.
Advanced Clinicals collagen cream and retinol cream two-piece set has your skin care needs covered from head to your toes! Retinol cream is great for eyes and face, while collagen helps tighten and firm your skin. Use after using your favorite facial cleanser and face serum. Moisturizing formulas with natural ingredients such as aloe vera, green tea extracts, and chamomille help hydrate your skin.
Best-selling skin care products are now available in a value set! Anti-aging moisturizer with retinol will help decrease the appearance of fine lines, wrinkles, crows feet, dark circles, puffiness. Collagen lotion tightens and firms skin and is great for sagging skin on your neck, face, hands, and decollete.
For salon professionals, this large 16oz retinol cream and collagen cream come with convenient to use pump helps avoid contamination. Powerful anti-aging moisturizers will help reduce appearance of fine lines, wrinkles, age spots, blemishes, and blotchiness and help promote even skin tone.
For all skin types, and great for dry skin. Retinol cream is a great night cream. Specially designed for you to be able to get the most out of the number 1 rated anti-aging ingredient, vitamin A (retinol) without the drawbacks of dryness or irritation that is typically associated with the use of Retinol.
Collagen cream will help provide flawless tone and texture by working deep into your skin to help eliminate the look of stretch marks, loose skin, cellulite, spider veins scars, crepey skin and more. Can be used as a day cream for your face.
Paraben free Manufactured in the USA. Not tested on animals. 100% Satisfaction Guaranteed.