5 Piece Set Blackhead Remover and Acne Extractor Kit Specifically ...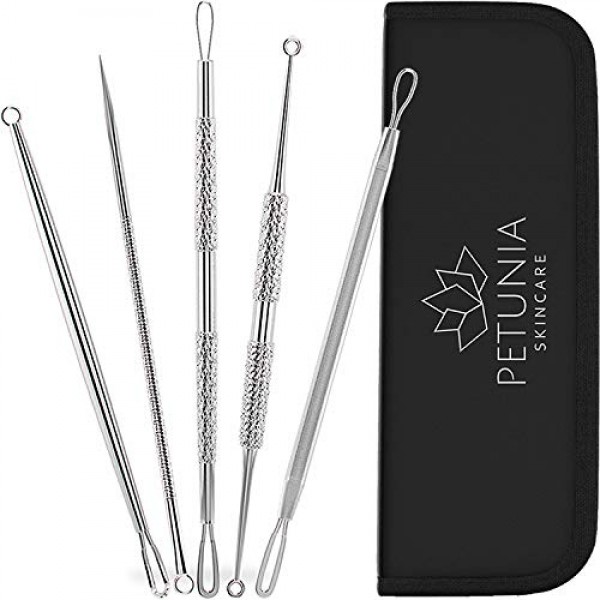 5 Piece Set Blackhead Remover and Acne Extractor Kit Specifically Treats Face Blemishes, Pimples, Zits and Whiteheads - Perfect Stocking Stuffer, Includes Giftbox and Travel Case
SPECIFICALLY MADE AND DESIGNED FOR THE SKIN ON THE FACE – Made with surgical grade stainless steel our kit contains five unique extraction tools to help you get rid of pimples, zits, blackheads, whiteheads and acne – and prevent breakouts from coming back. Each tool is made with DIFFERENT SIZES for you to choose from, because not all blemishes grow in the same size, now do they?
COMMON PROBLEM OUR CLIENTS ENCOUNTER FROM OTHER BRANDS BEFORE SWITCHING TO OURS: "Their tools are too thick and bulky for my skin to even be able to extract the blemish! It's almost like they made these tools for super hard thick skin!" The skin on our FACE differs from the skin on our BODY and Petunia Skincare knows this! Each double-looped tool helps extract blemishes of every size while MINIMIZING SCARRING and allowing skin to HEAL NATURALLY.
PACKAGED IN BEAUTIFUL GIFTBOX AND CASE & BONUS EBOOK GUIDE – Got a friend or family member suffering with acne or blackheads? In additional for personal use, this is a definitely a gift your loved ones can benefit from - we've packaged it in a way that makes it the perfect gift for anyone and we've even included an e-Book guide!
LONG-LASTING DURABILITY – Crafted with rust-resistant, premium-grade stainless steel, our tools are hypoallergenic and safe on dry, oily, or combination skin. No squeezing, no scrunching up your face trying to get those hard-to-reach blemishes.
BACKED BY A LIFETIME WARRANTY - That's right! We are so confident that you'll love our blackhead extractor kit that we've backed it up with a lifetime warranty and 100% satisfaction guarantee. If you are unsatisfied whatsoever, we will refund you or send you a replacement! Buy with CONFIDENCE!