5 in 1 Potent Face Serum with Retinol, Vitamin C, Collagen, Hyalur...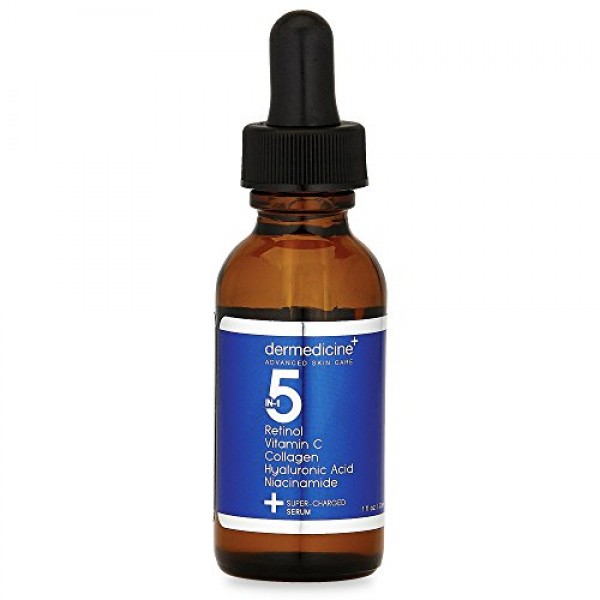 5 in 1 Potent Face Serum with Retinol, Vitamin C, Collagen, Hyaluronic Acid, Niacinamide | May Help Improve Appearance of Fine Lines and Reduce Appearance of Dark Spots | 1 fl oz/30 ml
Use our 5 in 1 potent face serum to promote smoother more youthful, brighter and even-looking skin. Our formula contains highest concentrations allowable for the greatest therapeutic effect from the active ingredients including Retinol, Vitamin C, Collagen, Hyaluronic Acid and Niacinamide and it is suitable for both men and women of all skin types and tones including normal, sensitive, mature, older, fair to darker skin tones such as African-American, Asian, Latin, Indian and Mediterranean. To use, wash face using a cleanser and pat dry. Avoiding direct eye contact, apply a thin layer of serum to entire face and allow to absorb. Apply twice daily (AM / PM). Can be worn under moisturizer, sunscreen and makeup. Caution: Discontinue use if redness or irritation occurs. Do not ingest. Ingredients: Propylene Glycol, L-Ascorbic Acid, Retinol, Caprylic/Capric Triglyceride, Glycerin, Polysorbate 20, Cetyl Palmitate, Laureth-23, Trideceth-6 Phosphate, Sodium Hyaluronate, Hydrolyzed Collagen, Phenoxyethanol, Triethanolamine, Ceramide NP, Niacinamide. We are fully committed to your happiness, love our 5 in 1 Serum or get your money back! MADE IN THE USA
MAY HELP REDUCE APPEARANCE OF FINE LINES AND WRINKLES: Contains the highest concentrations allowable for the greatest therapeutic effect from potent, active ingredients. Retinol, Vitamin C, Collagen, Hyaluronic Acid and Niacinamide work together to promote skin that appears more youthful-looking. Regular use may improve appearance of skin color, helping to reduce the appearance of fine lines under eyes, crows feet, lip, smile lines and appearance of forehead wrinkles for brighter looking skin.
BRIGHTER AND MORE EVEN-LOOKING COMPLEXION: Our advanced formula may help brighten and improve your complexion for a more youthful-looking appearance. We use a potent form of Vitamin C that offers antioxidant nourishment that may combat the signs of aging by promoting younger-looking skin, helping to reduce the appearance of hyper-pigmentation, dark spots, discolorations, age spots, and pigment associated with age, sun exposure, hormones, birth control pills, sunburn, and occasional breakouts.
PROFESSIONAL GRADE QUALITY: Our topical serum contains premium ingredients. It does NOT contain parabens, sulfates, synthetic artificial dyes, harsh fillers or chemical fragrances. Our formula helps improve the appearance of your complexion for skin that appears smoother, feels firmer and looks more radiant. All of our products use advanced ingredients, are animal cruelty-free and are made in the USA. We stand behind the quality of our products with a 100% SATISFACTION MONEY BACK GUARANTEE
SUITABLE FOR ALL SKIN TYPES: Effective yet gentle enough for sensitive, mature, and aging skin types offering results you can see and feel. Within approximately 7-10 days skin may feel softer, appear smoother, look plumper more hydrated. With regular use, at 4-6 weeks some users reported a brighter looking glowing complexion along with skin that appears plumper and feels more supple. Individual results may vary.
THE DERMEDICINE DIFFERENCE: We proudly make our products in the USA using the highest quality ingredients with the most advanced, results focused formulas and animal cruelty free practices. Our formulas are developed by dermatologist utilizing scientific studies and data on breakthrough ingredients with high efficacy results to deliver advanced skin care available on the market. We stand behind our products and offer a 100% Money Back Guarantee!