10% Niacinamide Serum with Zinc 1% by Cos De BAHA - Whitening Day ...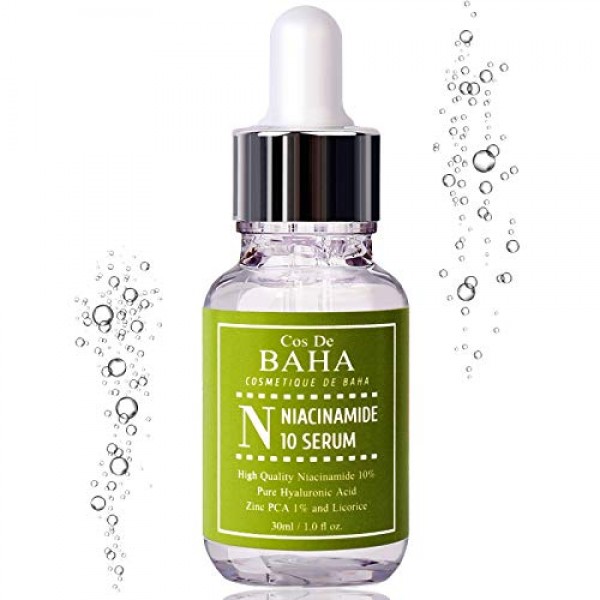 10% Niacinamide Serum with Zinc 1% by Cos De BAHA - Whitening Day & Night Serum, Tightens Pores, Reduces Wrinkles, Boosts Collagen & Repairs Skin, Fades Dark Spots, , Organic, (Vitamin B3) 1fl-oz
PRODUCTS FEATURES

Skin Benefits of The Magical Ingredient Niacinamide (Not just for lightening and brightening). We added 10% to enhance the functionality. It's also good for acne and breakouts. Niacinamide is an exceptional skin care ingredient because it can treat nearly any skin concern. It is an effective treatment for the following issues:
Skin Irritation & Trouble
Acne and breakouts
Hyperpigmentation and dark spots
Scarring
Uneven skin texture
Oversized pores
Redness and sensitivity
Compromised skin barrier, which looks like itchy, flakey, or overly thin skin
Premature aging
SPECIFICATION
Brand - Cos De BAHA
Volume: 30ml / 1.05 fl oz
Product name - Niacinamide Acid 10 Serum
Key Ingredients - Niacinamide acid
Formulation: Serum
Country of Manufacture: Made in South Korea
Package: With Paper box package, Reinforced container dedicated to cosmetics (None Glass Botle)
free from 6 harmful (Paraben, Gluten, Formaldehyde, Fragrance, Sulfate, Artificial Color)
What it is formulated WITHOUT:
Non-greasy
Paraben Free
Colorant Free
Alcohol Free
Fragrance Free
Gluten Free
Never tested on Animals
Risk-Free Guarantee
If for any reason you decide later that it's not for you, just let Cos De BAHA know within 90 days of purchase and they will refund 100% of your money back.
TEST Usage:
Please note that all serums can sometimes create irritations for people with very sensitive skin or uncommon allergies. Always test the product on a small area before using it, ideally behind an ear or under the chin. Allow 24 hours to measure skin sensitivity to the product.
✅ As we age, a loss of elasticity means skin doesn't have the firmness it once did. Vitamin B3 benefits your skin by improving barrier function, jumpstarting circulation and reinstating elasticity! For added anti-aging, we added Aloe to our Vitamin B3 Serum.Hyaluronic Acid and Vit B3 together they fight wrinkles and free radical damage, while protecting your complexion from UV rays. The result is fresh, dewy-looking skin with a stunning tone and texture.
✅ Cos De BAHA Niacinamide Serum contains 10% Vitamin B3, which means it's packed with natural, soothing properties that actively work to even your skin tone by addressing breakouts, blemishes, red marks and irritated skin. It also nourishes your skin to minimize redness or blotchiness while diminishing the appearance of hyperpigmentation to give your skin a youthful glow you're sure to love. Our formula also helps lighten dark skin pigmentation and brown spots.
✅ Introducing Niacinamide as a regular piece of any skin care regimen has been shown to reduce the appearance of the most common signs of aging on the skin, including those around the eye, mouth and forehead area. With regular use of Our Niacinamide Serum, you'll see the appearance of your pores diminish while your skin regains a firm and plump glow. By supporting healthy elasticity in the skin, this Niacinamide serum fixes wrinkles, fine lines, sagginess and puffiness.
✅ Free of harsh chemicals and hydroquinone, our premium quality lightening serum is extremely gentle and safe for daily use. It is FREE of 7 additives: paraben, tar colorant, animal-source ingredients, mineral oil, talc, paraffin, polyacrylamide.Our specific formula helps your skin feel soft and silky during application, and dries quickly for use under makeup or with other skin-care products. Vitamin C not Include
✅ KOREAN BEAUTY - There is a reason K-Beauty Skincare is so hot. Try it for yourself! Our Produces the cosmetic products in facilities certified by the Korea FDA (KFDA). It is an organic product certified by KFDA. free from 6 harmful (Paraben, Gluten, Formaldehyde, Fragrance, Sulfate, Artificial Color) and Not Tested on Animals - No Animal Ingredients. Our bottle is not a glass bottle but a professional cosmetic bottle. It will be delivered to you more safely.