Surfer Heishi Clay Bead Bracelets for Women Bohemian Stackable Evi...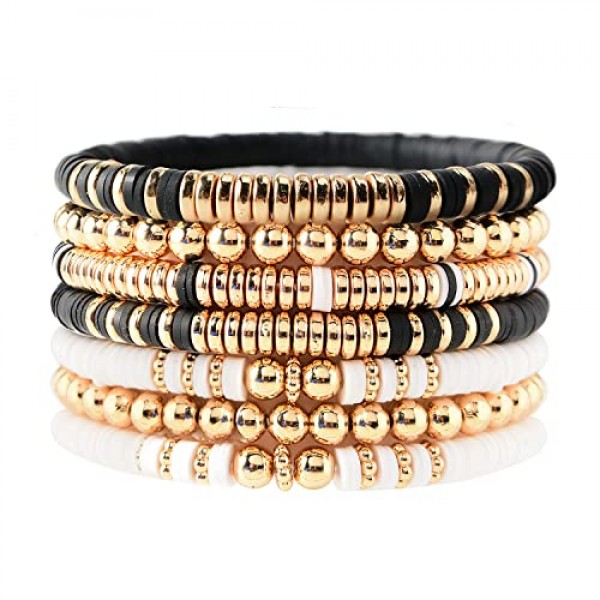 Surfer Heishi Clay Bead Bracelets for Women Bohemian Stackable Evil Eye Vinyl Disc Beaded Stretch Bracelets Elastic Layering Friendship Bracelets Boho Jewelry (E-Black&White 7pcs)
STACKABLE BEADED BRACELET SIZE : The Black bead bracelet is about 6.6inches, which is the size suit for 6.25"~7.0" wrists.Colorful Flat surfer bead bracelet is made of 6mm African vinyl disc beads and elastic string hand-beaded. It is easy to wear and take off. And it's elastic stretchy, so don't worry if it's right for you.
Colorful Heishi Bracelets Set For beach jewelry, aesthetic stuff Bracelets Jewelry we love a mix color of effortless layering bracelets. Bold and vibrant, the Bohemia bracelets are consist of flat clay beads and gold plated sequins on elastic bands.One package including 7 strands of heishi bead and gold bead bracelet, playful, colorful and stretch.
FASHIONABLE :Surfer bracelets are suitable for any occasion, beach, party, vacation, wedding, daily wear and other occasions. These surfer bracelets are suitable for women of most ages.
AFRICAN VINYL DISC BRACELET : These color-block Stackable stretch bracelet inspired by Multicolor African Vinyl Disc , lightweight and waterproof, the color will not change. This colorful bohemian Stackable bracelets is perfect for a great accessories gift for her.
After-Sales Service :Risk-free purchase, we provide a 90-day unconditional money-back guarantee, If you have any problem about our items, please feel free to contact us and it is guarantee solve it within 24 hours. And you can unconditionally refund or return.