Liitrton Manual Wooden Fascia Massage Roller Trigger Points for Re...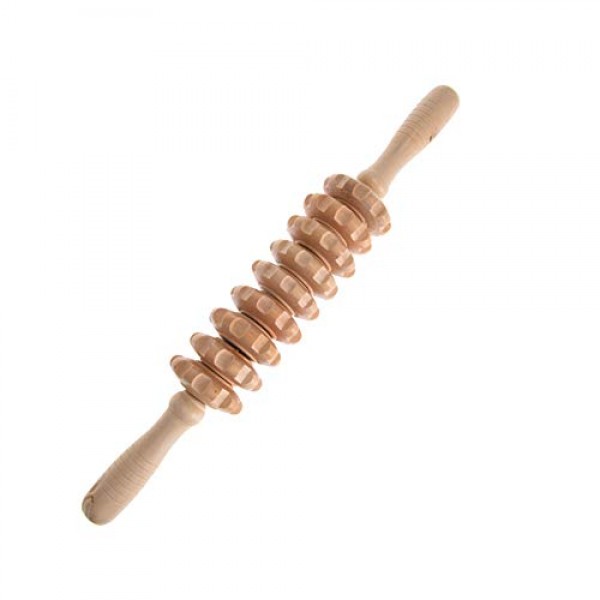 Liitrton Manual Wooden Fascia Massage Roller Trigger Points for Release Cellulite Sore Muscle Blasting (White)
Material: Massager roller is made of natural wood. The surface is smooth, without burrs, and will not scratch the skin. The metal rod in the middle has high strength, good toughness, and is not easy to bend, so that the massage ball rolls smoothly. It is easy to clean, just remove the detachable end, then rinse with clean water, and then reinstall it to use for a long time.
Size: Massage stick is 15.35 inches/39cm long, light and convenient, and can be carried along with the sound. Very suitable for travel, hiking and travel, let you enjoy massage anytime, anywhere. We recommend that you buy two at a more favorable price.
Function: When warming up and cooling during exercise, you can use the muscle roller rocker to help recover and prevent injuries. Release muscle tension, improve blood circulation, reduce neuralgia, eliminate fatigue, increase physical activity and flexibility, help to obtain healthy muscles and reduce fat, and shape a perfect body.
Roller Design: Wooden manual massagers are equipped with 9 rotatable rollers, which are smooth and durable. Non-slip handle, easy to hold, can effectively relax various parts of muscles, such as shoulders, waist, arms, legs, neck, feet, etc.
Crowd: help improve blood circulation, exercise muscles and smooth skin. Suitable for athletes, coaches, sports athletes, dancers to perform a perfect warm-up. Essential equipment for any professional masseuse, therapist, coach and coach. Very suitable as a gift for family and friends who love sports.