NaturOli Extreme Hair Moisturizing Conditioner with USDA Certified...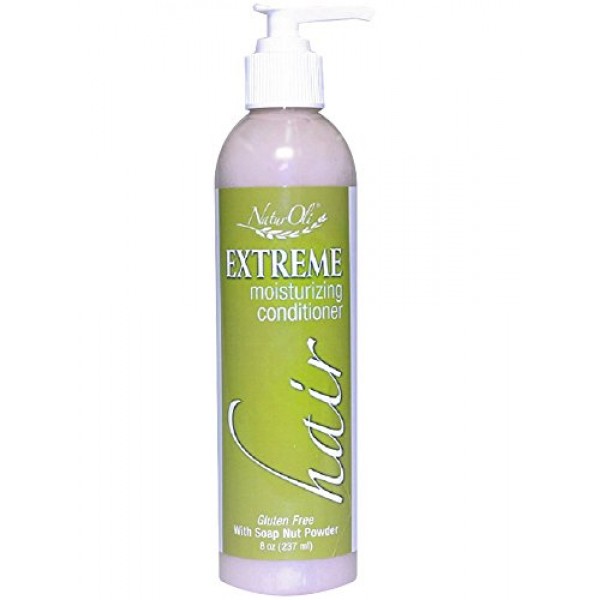 NaturOli Extreme Hair Moisturizing Conditioner with USDA Certified Organic Soap Berry Powder! Gluten Free.
Our organic Soap Nuts / Soapberry Shampoos have become our most popular product! NaturOli "Extreme Hair" Conditioner with Soap Berry Powder!! 99.9% natural and SULFATE FREE! USE within 6 MONTHS. Formulated with the utmost of care - selecting only the high quality, ultra-rich, effective botanical extracts and oils targeting hair and scalp issues. Enjoy powerful, yet gentle action, in unique Ayurvedic formulas. Aids to restore even the most damaged hair - from sun, heat, processing, or not so healthy styling products. Initial results may seem less than ideal as your hair and scalp must first be purged of these unwanted and unhealthy substances. Experience all the wonders, benefits and beauty achieved with TRULY natural hair and scalp care. For our shampoos search "NaturOli Shampoo" in ALL DEPARTMENTS.
Gluten free. Fragrance free. 99.9% botanical, chemical-free conditioner. Made with USDA CERTIFIED ORGANIC Soap Nuts / Soap Berry Powder! -Another great NaturOli "Extreme Hair" proprietary formula.
Appropriate for all hair types. Rinses clean leaving hair tangle-free and manageable with healthy body, texture, and volume. Hair feels soft, silky and replenished.
Safe for color treated hair. Won't bleed or fade color. Hydrates and revitalizes dry, damaged or stressed hair. Increases resistance to breakage.
Unique soap berry formulation helps purify scalp and keep pores clear of buildup. Relieves itchy dry scalp.
Sulfate-Free, Silicone-Free, Paraben-Free, Fragrance-Free. Not tested on animals. Formulated and made in the USA.