Maple Holistics Sage Shampoo for Anti Dandruff with Jojoba, Argan,...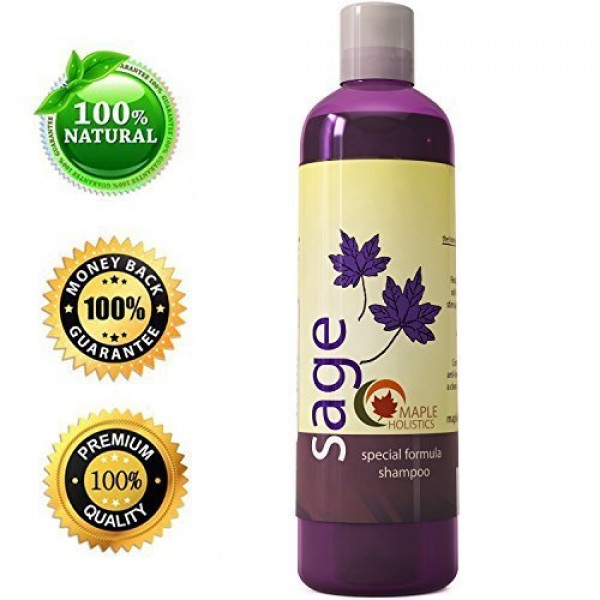 Why Sage Shampoo for Dandruff?
Sage shampoo is a serious solution for a serious problem. By taking advantage of a synergistic formula which works to solve the root problems which are the cause of dandruff, Sage is dermatologist-recommended for its ability to fight the causes and conditions of dermatitis. Made of the most organic and mild ingredients, the shampoo which holds our signature formula is great for all hair types, especially those sensitive to SLS or other detergents of that degree.
The Formula/Benefits:
Sage: Contains the most effective anti-inflammatory and anti-septic properties to combat dermatitis. Authentic and not part of the cosmetic nation which uses cheaper chemical alternatives, sage is also a natural benefit for those experiencing problems with hair loss.
Spikenard: Works to restore pigmentation to the hair and assists in the battle against dermatitis. This exotic and luscious addition also works together with sage to promote hair growth.
Rosemary: Rich in verbenone, this asset stimulates cell renewal of the hair follicles. Partnering with tea tree oil which clears out the dead cells, it also stimulates new hair growth and improves circulation.
Jojoba and Argan Oils: they provide hair shine and scalp smoothness. These give the shampoo moisturizing conditioner properties and helps with dandruff.
Botanical Keratin: Naturally derived botanical keratin plays an important role in restoring healthy hair. Frizzy and damaged hair may stem from a lack of keratin, which this ingredient generously replenishes.
The Holistic Promise:
By utilizing only the purest organic ingredients for oil treatment, the shedding of dead skin cells is reduced and leaves a fresh shine. This shampoo offers a deliciously spicy aroma, and is guaranteed to turn shower time into a remedial and therapeutic experience.
Treatment for dandruff at the source containing a natural & pure formula to combat dermatitis.
Free of parabens, phthalates, fragrances and sulfates.
Anti Dandruff for a healthy scalp, USA made - Rich in all-natural compounds verbenone (Rosemary), ?-terpinene (Sage), terpinen-4-ol (Tea Tree), and ?-Gurjunene (Spikenard).
Tea Tree Shampoo - Gentle ingredients, safe for color treated hair.
Reduces dead skin cell shedding and stimulates cell renewal.