GuruNanda Oil Pulling Oral Detox Oil Refreshing Ayurvedic Blend of...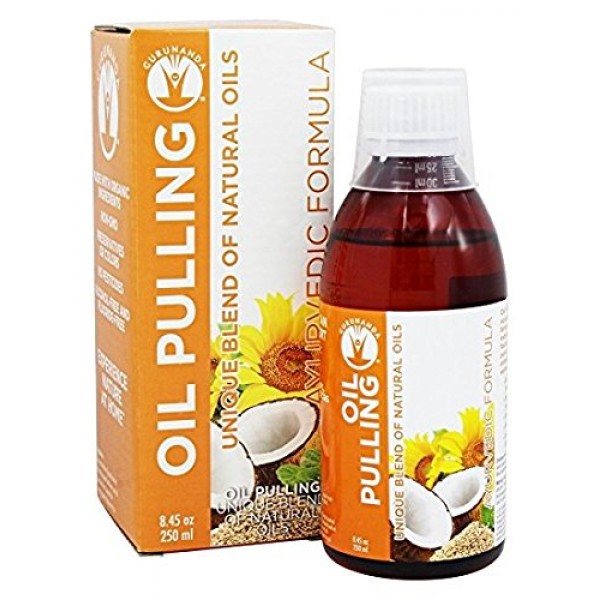 Oil pulling is a Unique Oral Detox methodology used since ancient times in Ayurvedic traditions since thousands of years in India. "GuruNanda' branded Pulling oil has been formulated by Vedic knowledge and Modern technology. Its Organic "Made in USA" and blends exact ratio of oils to balance the 3 Humors ( Dosha's). As per Dr Chaudhary a very famous neurologist on DR.OZ's show -The body has several mechanisms to "dump" toxic particles into the salivary glands. According to Ayurvedic tradition, oil pulling helps to increase the secretion of saliva and trap the toxins within the oil particles. By oil pulling, you can use the salivary glands in your mouth as a detoxifying organ. Instead of always putting junk in your mouth, you can use your mouth to pull out some of the junk and toxins out of your body. "GuruNanda" pulling oil combines the efforts of several professionals including a Ayurvedic Doctor, a MD ,E&Y Entrepreneur of the Year awardee , a Yoga teacher and a chemist. Reported Benefits of Oil Pulling are - Teeth Whitening, Dry Mouth Relief, Gum Health, Migraine Relief, Weight Control, Detox, Healthier gums, Prevents Bad Breath, Increased Energy, Clearer mind, Decreased Headaches,Clearer Sinuses, Alleviated Allergies, Better Sleep, Clearer Skin, Regulated Menstrual Cycles, Improved Lymphatic System, Improved PMS symptoms.
All-natural and safe! • Made with organic ingredients • Alcohol-free and fluoride-free • No artificial flavors, preservatives or colors • No pesticides • Non-GMO • Never tested on animals • Made in the USA
Ingredients: Sesame oil, sunflower oil, coconut oil, peppermint oil Pulling oils are based on 5,000 Ayurvedic science to help "pull" bacteria and harmful toxins out of the body. Through extensive research, GuruNanda has found the perfectly balanced blend of pure, refreshing oils long known for their extraordinary health, beauty and wellness benefits.
Uses: • Proper digestion and weight loss • Healthier teeth and gums, plus better breath • Moisturizes dry mouth • Thicker, more lustrous hair • Clear, radiant skin • Mood, concentration and focus improvement • Dosha balance
Directions: Shake well. Place one tablespoon of GuruNanda Pulling Oil in mouth. Gently swish oil, pushing it between teeth for 2-3 minutes. For better results, gradually increase to 15 minutes. Spit oil out. DO NOT SWALLOW. Rinse mouth thoroughly with water, and brush teeth and tongue.
About the manufacturer: GuruNanda, also known as Puneet Nanda, is a successful entrepreneur-turned-yogi. His business accomplishments, including the successful oral care brand, Dr. Fresh, earned him 2011's Ernst & Young Entrepreneur of the Year Award and an active position with the Young Presidents Organization (YPO). However, 16-hour workdays filled with stress, poor eating habits and lack of exercise took a dire toll on his life and his health. After an emergency trip to the hospital with chest pains during what turned out to be a severe anxiety attack, he rediscovered the yoga he loved as a child in India. His transformation included a 40-pound weight loss, which helped significantly lower his cholesterol and blood pressure. His commitment to yoga, yogic breathing, meditation and an Ayurvedic diet has helped him combat a host of prior health issues, such as back pain, insomnia, depression and sleep apnea - virtually without medications. His self-realization was so profound that he sold his former business. As an accredited yoga instructor also dedicated to the study of science and medicine, GuruNanda is committed to sharing his personal experience and expertise with everyone. GuruNanda's hard-won philosophy is all about enjoying life. Based on that positive and holistic foundation, his company strives to offer simple, convenient and rewarding products, resources and books. Move. Laugh. Breathe. That's the GuruNanda key to life.