Clairol Perfect 10 By Nice N Easy Hair Color Kit Pack of 2, 010...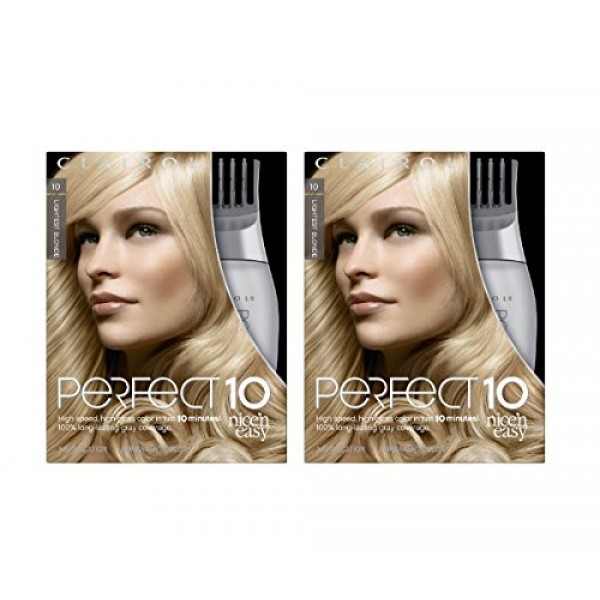 High Gloss Color. Just 10 minutes
It's the most-awarded hair color by beauty editors.* Perfect 10 is hair color so incredibly quick, gorgeously glossy and technologically advanced. And it's earning accolades for beauty and science alike.

* among leading U.S. national beauty magazines


THE SCIENCE OF PERFECT 10 HAIR COLOR
An exclusive advanced color crème formula with micropearls delivers color in less time* and with less damage. And it gives you high gloss hair color with flawless gray coverage.

This breakthrough technology is the biggest advance in hair color in 50 years—it has 18 patents applied for and received the Royal Society of Chemistry Teamwork in Innovation Award. And it created the one and only Perfect 10.
"The development of Perfect 10 is the greatest
advancement for hair color in 50 years."
Frauke Neuser
Clairol research and development expert
HOW PERFECT 10 WORKS
Clairol research and development expert Frauke Neuser answers some frequently asked questions:
SIMPLE STEPS TO STUNNING COLOR
DO SKIN ALLERGY TEST 48 HOURS BEFORE EACH APPLICATION EVEN IF YOU HAVE ALREADY USED COLORING PRODUCTS
STEP 1: GET READY TO COLOR
BEFORE STARTING
Put on Expert Colorist Gloves
Put towel around shoulders to protect clothing
Have clock ready for timing
Comb hair gently
Color should be applied to dry hair
FIRST - Mix color
Remove mixing cap, squeeze tube (1) into bottle (2).
Replace mixing cap securely and hold away from face. Do not shake with comb attached.
Shake thoroughly for a minimum of 20 seconds until fully mixed. Remove mixing cap immediately.
THEN - Twist on
PerfectColor Comb for All Over ColorIdeal for first time users or if you haven't colored for more than 3 months.

Applicator Tip for Root ApplicationIdeal if you color every 4-6 weeks. Use the applicator tip for your roots if your root line is 1/2 inch or less.

Apply color immediately after mixing. Never leave the bottle with the cap on.
Once mixed, never reseal or store the color in a closed container as it could burst.
Pour any unused color mixture down the drain as it will lose its effectiveness after an hour.
If any color gets on your skin, wipe it off with a damp towel.
STEP 2 - Apply color
OPTION A: ALL OVER COLOR
Apply with the PerfectColor Comb starting at your roots and where you have the most gray.
Turn bottle upside down & gently squeeze as you glide the PerfectColor Comb downward through hair.
Part & lift hair into sections as you apply color. Check hair is completely saturated & work through if necessary. Do not rub into scalp.
Leave color on for just 10 minutes (or time indicated by your strand test).
OPTION B: ROOT APPLICATION
Part your hair into sections with the applicator tip. Apply mixture to your roots. Leave on roots for 5 minutes.
Replace applicator tip with PerfectColor Comb to apply remaining color to rest of hair.Turn bottle upside down & gently squeeze as you glide the PerfectColor Comb downward through hair.
Part hair into sections and apply color to completely saturate hair. Check hair is completely saturated & work through if necessary. Do not rub into scalp.
Leave color on for an additional 5 minutes (or time indicated by your strand test).
STEP 3 - Rinse and Condition
Rinse until water runs clear. Gently massage an amount the size of a quarter of the ColorSeal Intensive Conditioning Cr me through hair. Leave on for 2 minutes then rinse.
Save remaining conditioner to use once a week for up to 6 weeks of optimal high gloss color, shine and softness.
BEFORE YOU COLOR: 48 HOURS IN ADVANCE
Take the ALLERGY TEST.
Do the STRAND TEST to determine your optimal coloring time.
Read this entire instruction leaflet before you begin.
IMPORTANT: SAFETY INSTRUCTIONS
HAIR COLORANTS CAN CAUSE ALLERGIC REACTIONS WHICH IN RARE INSTANCES CAN BE SEVERE. TATTOOS MAY INCREASE YOUR RISK OF ALLERGY, TO REDUCE YOUR RISK FOLLOW THESE INSTRUCTIONS:
1. DO NOT USE THIS PRODUCT AT ALL IF:
You have already experienced any reaction to coloring products.
You have sensitive, irritated or damaged scalp.
In these cases do not conduct the skin allergy test and consult a doctor before using any haircolor product.
2. PERFORM A SKIN ALLERGY TEST 48 HOURS BEFORE EACH PRODUCT USE even if you have already used coloring products before.
SKIN ALLERGY TEST INSTRUCTIONS
MUST BE PERFORMED 48 HOURS BEFORE YOU COLOR YOUR HAIR:
You will need a cotton ball or swab, a plastic bowl and a plastic spoon.
To open, unscrew the entire Color Activating Crème cap (2).
Then open the Color Crème tube (1). Unscrew cap and turn it upside down. Hold firmly without squeezing and point the opening away from your face. Push the pointed end of the cap into the seal.
Mix small, equal parts of Color Crème (1) and Color Activating Crème (2) in a plastic bowl.
Tightly recap Color Activating Crème bottle (2) and the Color Crème (1).
Apply mixture to a test area the size of a quarter in the bend of your elbow. Allow to dry. Use remaining mixture for Strand Test. Do not wash this area for 48 hours. During washing, protect with an adhesive bandage and remove it immediately after washing.
Examine the test area during the next 48 hours. If no reaction occurs, you are ready to color. The absence of reaction to this test is no guarantee that an allergic reaction may not occur as a result of a future haircoloring process. However, this test represents an important precaution. Please consult a doctor if you have any doubts.
NOTE: IF A RASH, REDNESS, BURNING OR ITCHING OCCURS YOU MAY BE ALLERGIC. STOP. YOU MUST NOT USE THIS PRODUCT.
WHAT TO DO IF YOU HAVE A REACTION DURING OR WITHIN THE NEXT 48 HOURS OF COLORING YOUR HAIR IF DURING COLORING YOU EXPERIENCE:
Any stinging or burning and/or rash, rinse immediately and discontinue use as this may be an indication of a more serious reaction. DO NOT color your hair again before consulting a doctor or seeking medical advice.
Rapidly spreading skin rash, dizziness or faintness, shortness of breath and/or swelling eyes/face, rinse immediately and SEEK IMMEDIATE MEDICAL ATTENTION. IF AFTER COLORING OR ON THE FOLLOWING DAYS YOU EXPERIENCE problems, such as skin itching, skin rash, swelling to eyes/face, blistering and/or skin or scalp weeping SEEK IMMEDIATE MEDICAL ATTENTION.
SPECIAL CAUTIONS
This product contains ingredients including hydrogen peroxide, which may cause severe eye irritation and possible permanent eye injury. If any product gets into your eye, flush immediately with a large amount of lukewarm water and seek medical advice.
We recommend removing contact lenses before applying haircolor. If you must wear contact lenses during application and if any product gets into your eye, remove the lens first, then flush immediately with a large amount of lukewarm water and seek medical advice.
Never use haircolor on eyebrows or eyelashes or if your scalp is irritated or injured.
Do not inhale or ingest product.
Do not use if your hair has been colored with henna or metal dyes.
Prepare and use the product in a well-ventilated area. If you experience inhalation difficulties, move to fresh air.
Remove all metal objects from hair before and during coloring.
Wear gloves and rinse hair well after application.
Keep product in a cool place away from heat and light. Do not mix this colorant with any other product. Do not keep any unused mixed product. Do not leave the mixture in a closed bottle (bottle may expand or burst).
Product not intended to be used on children.
Keep all haircoloring products out of reach of children.
STRAND TEST
Do the Strand Test each time you color to determine optimal timing and color results. Perms, relaxers, previous color, and the sun can affect your results and timing.
You will need: scissors, tape and a clock.
Cut a ¼ inch wide strand from the darkest or grayest part of your dry hair close to the scalp and tape at the cut end.
Completely cover the hair strand with the mixture remaining from the Allergy Test. Start timing.
After 5 minutes, check the strand. If the strand is not the color you want, return it to the mixture and check the color every few minutes for up to 15 minutes. Perfect 10 is designed to work in 10 minutes or up to 15 minutes for resistant grays.
Fill in your personal color time below:
My timing for desired color: _______ minutes.
COLOR HINTS & TIPS
Apply color to dry hair that is free of styling product build-up. If hair has build-up, shampoo one day prior to coloring. Do not shampoo immediately before coloring. Your scalp has natural oils that help to protect it during the coloring process.
If any color gets on your skin or household surface, wipe it off immediately with a damp towel.
Use the ColorSeal Intensive Conditioning Crème only once a week. It has been designed to give you long-lasting benefits. For best results use an amount the size of a quarter per application.
If your hair has been recently permed or relaxed, wait at least7 days and 1 shampoo before coloring. Do the Strand Test since your timing may need to be reduced. If you plan to perm or relax your hair, wait at least 7 days and 1 shampoo after coloring.
If you've used a gradual color restorer, henna, or metallic dyes, do not use this product until your hair has grown out and colored areas have been cut off.